Tottenham Hotspur midfielder Dele Alli has been handed a three-match European ban by Uefa following his dismissal against Gent last month. The England international was shown a straight red card by referee Jorge Sousa and subjected to strong criticism after launching into a dangerous knee-high tackle on Brecht Dejaegere during the second leg of a Europa League last-32 second-leg tie.
Such a suspension means that, should second-place Tottenham retain their top-three spot in the Premier League and secure automatic qualification for next season's Champions League, Alli would miss precisely half of their group stage matches.
Had they felt the ugly challenge merited a more hefty punishment, then Uefa could have opted to enforce a longer five-game ban that would have potentially seen him miss all but one of those group stage matches in 2017-18.
They could also have chosen to impose a more lenient one-match suspension, although that never appeared a likely scenario in this case.
Unquestionably a very special talent and already an influential figure for both club and country aged just 20, Alli does possess something of an obvious mean streak. Last year, he escaped with only a yellow card after kicking out at Fiorentina defender Nenad Tomovic before missing the end of the season thanks to a three-match FA suspension handed down following a punch to the gut of West Bromwich Albion counterpart Claudio Yacob.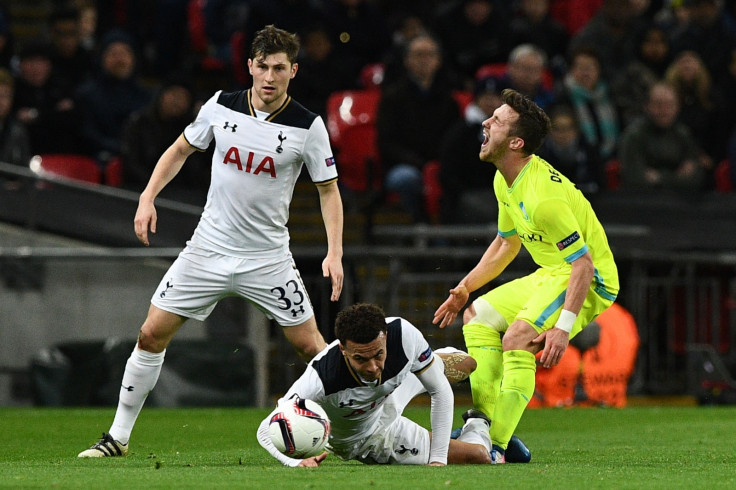 Speaking recently about his aggressive side, the otherwise affable Alli said: "I think I've definitely calmed down a bit but it's important, I'm never going to take that out of my game. I'm never going to say sorry for wanting to win or trying as hard as I can but things happen and you have to learn from them. I always want to win.
"The manager knows that's who I am. He knows I'm not going to change no matter what. We've had a few talks and he's been very supportive so it's nice to have a manager that backs you like he does. I'm still young, I'm 20 years old, there will always be lots of up and downs in football, that's the way it is. But when things don't go my way I've just got to try to learn from them and keep improving."
Former MK Dons prodigy Alli did apologise to Dejaegere after that 2-2 draw at Wembley Stadium that saw Tottenham bow out of Europe 3-2 on aggregate. The Belgian initially struggled on in the match before finally being withdrawn 11 minutes after half-time.
"He just said sorry to me and that's nice from him, he's a pro," Dejaegere said afterwards. "It's football. I saw the images and it could have been much worse. I don't think he meant it because he came to apologise himself. At half-time I felt pain in my knee and also someone showed me the image and then my heart was thumping for a few seconds."