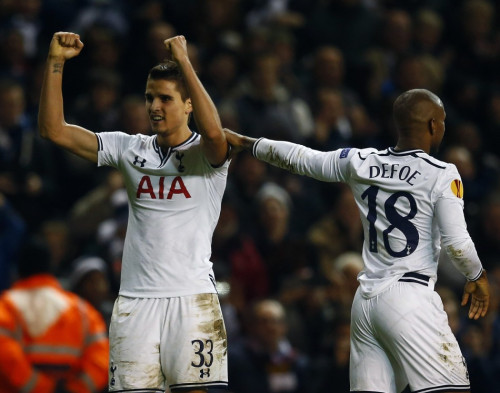 Andre Villas-Boas has admitted that Tottenham Hotspur's record summer signing Erik Lamela's failure to adapt to English life has had its impact on the attacking midfielder's performance on the field.
The Argentine international arrived at White Hart Lane from AS Roma in the final week of the transfer window. Lamela was the star player for the Italian outfit last season, scoring 15 goals and registering five assists to his name in 33 Serie A appearances in the last season.
However, the 21-year-old has failed to replicate his Roma form for AVB's side, forcing him to start the Premier League fixtures from the bench.
The former Chelsea boss said the change of city and language, along with Andros Townsend's brilliant run in the league has cost him a place in Spurs' starting lineup.
"Adaptation for him has taken some time for personal reasons. Not speaking the language is never easy, completely opposite social life to Italy, change of city, no family here and the fact he faced tough competition with Townsend's explosion," AVB explained.
"All of those reasons add up and the player is on the right track," the Portuguese boss added.
Lamela scored his first goal for the north Londoners during their 2-1 Europa League victory over FC Sheriff at home. The former Roma star also won a penalty minutes later, which was converted by Jermain Defoe.
AVB hailed Lamela's midweek performance and is hopeful that Spurs' summer signing will continue to fire.
"We were waiting for a good performance for him and we got it today. We have been patient with him and he has delivered," the former Chelsea manager said.
"He had no fear, took on people and created a lot. We saw some signs of what he can do for us and hopefully from now on he'll do this for us."
Spurs' latest victory has seen them qualify for the next round of the Europa League. However, AVB is looking for a first place finish as a point from their remaining two fixtures would be sufficient for them to clinch the top spot.
"These things can happen and it's good also as it keeps us on our toes for the remainder of the games. We want to qualify first, but we also want to leave a good impression for the fans and honour the shirt that we wear," AVB stressed.