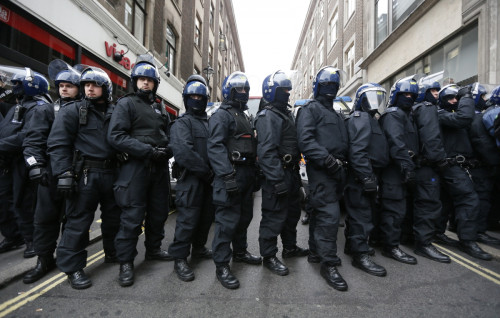 Scotland Yard has warned that some protesters plan to "provoke disorder" at a vigil in Tottenham, north London, for Mark Duggan, to be held in protest at a jury's finding that Mr Duggan was lawfully killed when he was shot by police.
The Metropolitan Police has drafted in extra officers to police London today and to keep the peace in Tottenham, where the family of Mark Duggan will hold a peaceful vigil outside a police station at 2pm today.
Duggan's death in 2011 sparked a wave of riots across the country. Last week, an inquiry found that 29-year-old Duggan, who was killed after a minicab he was travelling in was pulled over by armed police in Tottenham, was lawfully killed.
The jury concluded that Duggan did not have a gun when he was shot by officers, who testified he had thrown the gun from the taxi just before shots were fired.
A Metropolitan Police statement said: "Today is a busy day in the capital and we have a policing operation in place across London. This includes having additional officers on standby that could respond to any incident that occurs.
"Part of this operation includes assessing all available information and intelligence. We are aware of a limited amount of information that indicates a small number of people are expressing their desire to use this vigil as an opportunity. This information includes the intention of protest groups to attend and of people looking to provoke disorder. We will be ready to intervene immediately if required."
The statement added: "The family has expressed that they wish this vigil to be held in a dignified and peaceful manner. The MPS has met with the organiser to ensure that we can appropriately facilitate their plans."
There are also fears that the crowds may mingle with football supporters attending the Tottenham Hotspur game against Crystal Palace, which kicks off an hour later.
Duggan's family have called for demonstrations to be peaceful and non-violent. Metropolitan Police commissioner Sir Bernard Hogan-Howe has claimed the police have robust plans in place in case violence erupts.
Reverend Nims Obunge, a pastor in Tottenham who knows the family and conducted Duggan's funeral, told the BBC: "The message from the family is that this vigil is intended to be a very peaceful vigil. It is a vigil in remembrance and respecting the life and death of Mark Duggan. His children will be there, and we don't expect anybody to come to where Mark Duggan's children are to create unrest or anarchy."