A "truly heroic" off-duty firearms police officer, who was shot at seven times during a shootout with a gunman on the streets of north London, has been awarded a medal for outstanding bravery.
Martin Finney, of the National Crime Agency (NCA), had bullets fly past him during the near-deadly confrontation with armed gang member Sedat Meric.
Despite being alone and not wearing any body armour, the police marksman pursued Meric until he ran out of ammunition and surrendered.
The frantic shootout saw one bullet pass just centimetres away from Finney's body.
The NCA said: "Believing Meric could have already killed someone, Martin refused to give up until Meric was out of bullets and eventually put down his gun and raised his arms."
Finney – who has been an armed officer for 12 years after an Army and policing career– was awarded the George Medal for outstanding bravery, the NCA said on Tuesday (24 January). The award is the second highest level of recognition for bravery after the George Cross.
The shocking incident, on the night of 23 May 2014, was captured on CCTV. The footage shows a hooded Meric, 27, fire four times into the crowded West Green Road Pool Bar in Tottenham, in an attack said to be part of an ongoing gang-feud. A second camera then shows Finney, who had been returning from a surveillance operation at the time, confront Meric with his weapon drawn.
In a chilling moment, Meric can be seen firing his semi-automatic handgun on Finney, before fleeing into Carlingford Road as the officer returns fire. The gunman continued shooting at the officer, who desperately took cover behind cars on the opposite side of the road as several bystanders ran for their lives.
Despite Meric firing seven rounds at Finney, the officer continued to advance on the attacker until the suspect ran out of bullets and surrendered. Reliving the incident, Finney said it was the first time he had ever fired his weapon.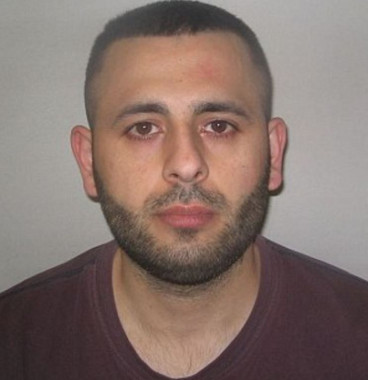 "I wasn't going to cower behind a car. I wanted to arrest him. I just tried to make myself as small as possible and get a good shot back," he said.
"He went around the corner and I moved for cover. I could see his eyes looking at me and the gun coming up. The NCA training is fantastic and kicks in.
"You can't really be prepared in that position but you train so much that your confidence is there. At the back of my mind I didn't know if he had already killed someone.
"His firing was totally indiscriminate; he had no regard for life. I was terrified somebody might have been hit."
Meric, a kebab shop worker from Tottenham, was eventually jailed for 15 years for the attack in January 2015 after being found guilty with accomplice Oktay Ayanoglu of possessing a firearm and ammunition with intent to endanger life during a trial at the Old Bailey.
He was found not guilty of the attempted murder of Finney.
Judge Michael Topolski said it was "miraculous" no-one had been injured during the shooting, and praised Finney – then known only as officer NC32 – for his "courage and resolve".
Director General Lynne Owens, of the NCA, said: "Martin displayed such bravery in the face of extreme danger and he thoroughly deserves this prestigious award. He protected the public, confronting a gunman who was firing his loaded weapon repeatedly. It was a truly heroic act and we are all so proud of him."
Speaking of his pride at receiving the medal, Finney said: "I feel incredibly honoured to receive this award. To be associated with previous recipients of the George Medal is truly humbling. Accepting this award I would like to thank members of the armed operations unit who on the night of the incident also carried out acts of bravery and showed great professionalism.
"I was gobsmacked finding out about the medal. I have colleagues who have received awards, some posthumous, and to be honest I really don't feel worthy to be in the same bracket as them. Receiving the George Medal is amazing, I can't express it. All my family are incredibly proud of me."
He added: "I have always wanted to help keep people safe, we are trained to protect people and that's the NCA's ethos. That was very much in my mind on the night. You take the Queen's shilling and you give the job everything you've got."