Tottenham manager Andre Villas-Boas confirmed that Emmanuel Adebayor would not be leaving the club after rumours emerged linking the striker with a move to Celta Vigo. He has also waved aside a tweet from one of his players that painted him in an unflattering light.
The forward has struggled to force his way into the Tottenham first team since signing on a permanent deal from Manchester City during the summer transfer window.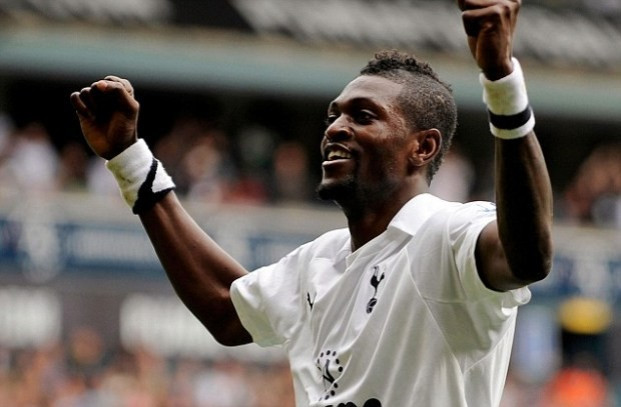 The form of Jermain Defoe, combined with numerous injuries, have meant that Adebayor is yet to complete 90 minutes for Tottenham this season, adding fuel to the suggestion that Villas-Boas would consider allowing him to leave.
However, the former Chelsea boss made it clear Adebayor would be part of the first team plans and that he would soon have his opportunity to make an impact.
"He is certainly not a player we are interested in selling or loaning," confirmed Villas-Boas at a press conference ahead of the Europa League tie against Maribor.
"Unfortunately it hasn't worked out because of his injuries and he has missed an important sequence of games. We have full belief in Adebayor, he is one of the best strikers in the world."
The Tottenham fans voiced thei concerns after the 1-0 home loss to Wigan as Villas-Boas refused to change his system and choose to replace Defoe with Adebayor, rather than go with two up top.
Villas-Boas has preferred to use a lone striker since joining the club, a system which previous manager Harry Redknapp also favoured, but he admits that he has discussed the possibility of playing two forwards.
"Yes we have had thoughts between the technical staff regarding changing our structure," admitted Villas-Boas. "We have been successful in the past using the lone striker but we have also played 4-4-2 in some games. You will see us using it. If the right time is tomorrow [against Maribor] I'm not quite sure yet."
The Spurs boss also addressed the comments from full-back Benoit Assou-Ekotto who joked on Twitter: "Hello [sic] every 0ne!!!!! b strong at work and think positif!!!! Even if u hate ur boss Lol."
Villas-Boas clearly saw this as a joke as an instant smile appeared on his face when asked about the tweet.
"I was with him this morning. I think it was related to a friend," said a clearly amused Villas-Boas. "We have a very good relationship and it was good banter from him."