Tottenham manager Andre Villas-Boas revealed that he has been working closely with striker Emmanuel Adebayor in order to help him rediscover the form that saw him score 18 goals last season.
Last term Adebayor was desperate to prove his worth as he attempted to secure a move away from Manchester City, but since making a £5million move last summer he has struggled to replicate his fantastic goal-scoring touch.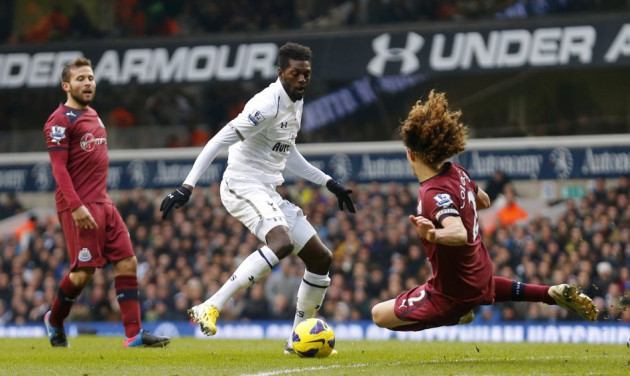 Adebayor has scored just three goals this season but will play an instrumental role in helping Tottenham qualify for the next round of the Europa League when they take on Lyon. With Jermain Defore sidelined through injury he is virtually certain to start in France.
Spurs secured a 2-1 win at White Hart Lane thanks to two sublime free-kicks from Gareth Bale but Villas-Boas knows that he needs a big performance from his powerful striker.
"We're trying to unlock the best of Adebayor. Last year shows as an example of what we're trying to get out of him," Villas-Boas told the Mirror. "The team has adapted its style of play, which can relate to the dynamic of how he adapts to the other players.
"We have been speaking to him about how he can get into that goal-scoring position. Strikers live off goals and we're doing everything we can to try and unlock his full potential."
The Togo international has struggled to get a run of games in the team due to numerous injuries, his time at the Africa Cup of Nations and the superb form of Defoe.
But Villas-Boas refutes claims that he has not worked as hard because he is on a permanent contract and believes it is just a matter of unlocking his full potential and finding a way for him to fit into the current side.
"I'm not sure if it bothers him [what others think of him]. Players build their own motivations. Perceptions and media opinions can influence the public in general but I think the player strives on his own motivation in the end.
"It doesn't affect us in the way we deal with him. We just want to unlock his potential because we recognise we want him at the same level as last year and we're doing everything we can to try and help him reach that level," added the former Chelsea boss.
"The injuries and the Africa Cup of Nations took him out for lots of games. Defoe's run this year had been magnificent. The team shifted a lot with the loss of Rafael van der Vaart and Luka Modric.
"I'm not sure if it affected Adebayor's run. The relationship with the team now is different so everybody has to adapt in some way. With the run we have until the end of the season he can still be the player we saw last season."
It has been Bale that has scored Tottenham's last six goals but they will be hoping that Adebayor can once again begin to fire as they attempt to make certain of a top four finish.