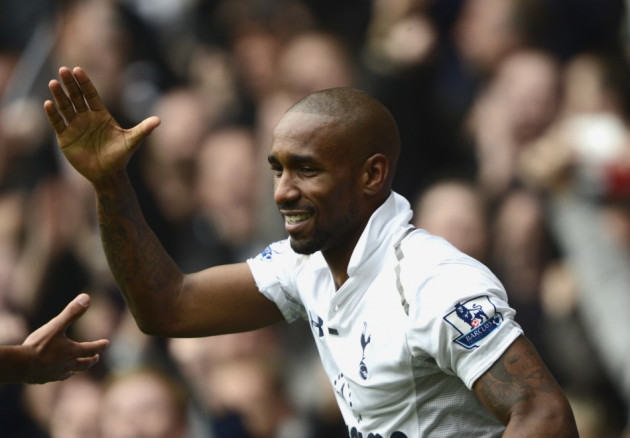 You are the leading English scorer in the Premier league, you have more than 50 caps for England and you are the first choice striker at your club. When Roy Hodgson announced his latest squad you would have felt pretty confident about your inclusion. So what is Jermain Defoe thinking right now?
The Tottenham striker was strangely omitted from the latest England squad that plays Sweden in a friendly on November 14, with Hodgson instead plumping for just three strikers in Manchester United duo Wayne Rooney and Danny Welbeck, plus Chelsea's Daniel Sturridge.
Defoe has scored more league goals this season than the trio combined, has started every Premier League fixture and has recently become Tottenham's eighth highest ever goalscorer, overtaking club legend Teddy Sheringham.
The 30-year-old has been one of the most consistent strikers in the Premier League for more than a decade, regularly hitting double figures in a season and continually harassing defenders with his speed of thought, movement and desire to find the back of the net.
It is an obsession for Defoe. He craves goals and is prepared to be selfish in order to obtain his target. He has scored 126 goals for Tottenham and more than 200 in a career that has seen his play for struggling sides in West Ham and Portsmouth.
Despite this record, he found himself playing second fiddle to Emmanuel Adebayor last season and he has struggled to ever gain a run of starts in the England team. In fact, he has only ever played a full 90 minutes for his country on two occasions.
He has just 20 starts in his 52 appearances and is instead forced to spend the majority of his time warming the bench and hoping for longer than 20 minutes in which to make an impact. Surely, whether looking at his career stats or simply assessing his current form, he deserves a place in the squad.
Defoe's case appears even stronger when assessing the merits of Manchester United and Chelsea forwards Sturridge and Welbeck. Their inclusion is certainly bot based on their displays this season, while they have little history in the national side.
Instead it seems purely based on reputation. Both are viewed as players with huge potential but neither can break into the first team. Welbeck is perhaps unfortunate to be competing with Rooney, Robin van Persie and Javier Hernandez at Manchester United, but what is Sturridge's excuse.
He can't even force his way in front of a striker who is horribly out of form in Fernando Torres. The Spaniard remains a shadow of the player that terrorised defences across the world for Spain and Liverpool. Even when handed the chance in cup competition he has been criticised for his displays.
Perhaps Hodgson is simply looking at other options after starting Defoe in three of the last four World Cup qualifiers. However, Defoe would have loved the opportunity to improve his goal scoring record for England and continue his hot-steak after a hat-trick in the Europa League.
Defoe will hope that he comes back for the World Cup qualifiers as he deserved a real run of games for England. Perhaps Hodgson will even give him the opportunity to play 90 minutes, there is little doubt he deserves it.