Tottenham goalkeeper Heurelho Gomes has revealed how unhappy he was with life at the club under Harry Redknapp who seemingly refused to allow the player to leave White Hart Lane in order to find regular first team football.
Gomes fell out of favour with Redknapp and was forced to become the third choice stopper at the club behind Brad Friedel and Carlo Cudicini.
The Brazilian had been first choice when Redknapp first arrived at the club but a couple of errors in big games led to his position coming under threat and veteran keeper Friedel was brought to the club.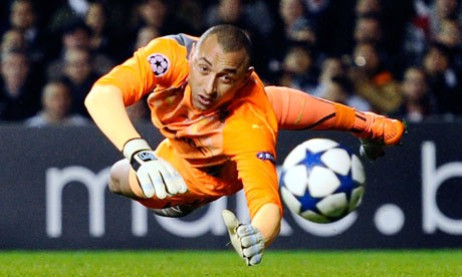 Gomes admits that while he did not mind the extra competition, he could not believe that he was dropped and was given no reason by Redknapp as to why he was rarely handed another opportunity to impress.
"Redknapp barely talked to me. I was playing really well when he hired Friedel. So I was really surprised and decided to ask him about that," Gomes explained to The Sun.
"Redknapp asked me to be calm, because I was his goalkeeper and he trusted me, as he told me. But that didn't happen.
"In the 2010-11 season, I made only two mistakes but I didn't give them so much importance and I didn't think I was going to be sacked from the team because of that."
The former PSV Eindhoven player also believes that it was Redknapp's decision not to allow him to leave the club, despite their being offers from numerous sides in both Europe and South America.
"I asked Redknapp to let me go, but he said no to three offers for me. QPR, CSKA Moscow and Atletico Mineiro wanted me," added Gomes.
"I was close to CSKA because they wanted me only for four months and I was going to play the Champions League, but Redknapp didn't allow me to leave."
Now that Redknapp has left the club, there could be the opportunity for Gomes to impress new boss Andre Villas-Boas, however, the Brazilian has admitted that he would like to return to his homeland after becoming tired of playing in Europe.
"I'm sure that Villas-Boas' arrival is going to help me. He is great and he wants to do the best for Tottenham. I'm sure he will achieve many things here. I hope I could play in his team until 2014.
"I have two more years under contract at Spurs and I intend to fulfil them. But I'm tired of Europe, I have reached my limit here," Gomes said.
"I'm 31 years old and I'm thinking about moving back to Brazil. Atletico Mineiro wanted me, but Tottenham asked them to pay a fortune of £8million for me and