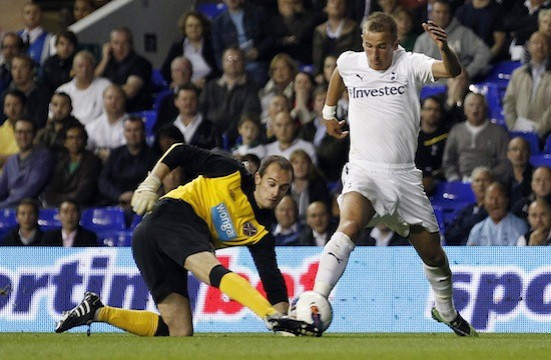 Andre Villas-Boas has hinted that he will send Harry Kane out on loan this season in order to give the 20 year old a greater chance to develop his game.
Kane has so far had four loan spells away from Spurs since moving from the youth set-up into the senior line-up in 2011. The 20 year old has been capped for the England under 21 side and Villas-Boas insists that the youngster is a prospect for the future.
While Tottenham face the prospect of juggling Europa League and domestic cup games as well as the league, Kane has so far received just oney one chance in the Premier League so far this season and his manager has admitted that he might get more of an education elsewhere this season.
"At the moment what I've been speaking to Harry about is that we are studying the possibility of him going out on loan as well - but we are happy for him to try to compete for his place, and so is he," Villas-Boas said, according to the Tottenham & Wood Green Journal.
"We have lots of options up front and he understands that, but he is happy to continue to push for his place. He has been given that opportunity because he has been excellent in training, so we believe a lot in his future."
Tottenham currently have a plethora of attacking players available, particularly with the side havng rebuilt in the summer transfer window following the departure of Gareth Bale.
Kane signed a new deal with Spurs last February as he left the club to go to Leicester until the end of the season and received only praise from manager Nigel Pearson while at the club.
He has also put in promising performances for the England Under 21 placing him within Tottenham's growing young English contingent that includes the likes of Andros Townsend, Danny Rose, Kyle Walker and Ezekiel Fryers.