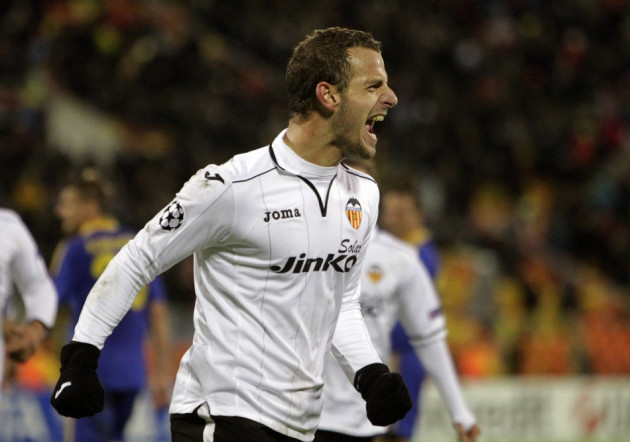 Tottenham Hotspur will be hard pressed to sign Roberto Soldado after Valencia manager Miroslav Djukic insisted the Spanish club will do all they can to keep the striker on board.
After Spurs' pursuit of David Villa fell through, with the now former-Barcelona striker confirming he would be joining Atletico Madrid, the north-Londoners have had to reassess their attacking targets as Andre Villas-Boas looks for more depth up front.
Soldado is a name which has often been mentioned in relation to Tottenham with the Valencia star scoring 28 goals for his club last season and continues to be an important part of the Spain national team.
But if Tottenham are hoping that the 28 year old will be the key to qualifying for the Champions League next season they will have to make an offer Valencia can't refuse with Djukic insisting Soldado remains in his plans.
"I think Roberto will stay with us," said Djukic, who also insisted he had spoken to Soldado about his future during the Confederations Cup.
"I am very calm about that. Soldado is important and I want him to lead the team."
Tottenham are on the lookout for attacking reinforcements strikers after Emmanuel Adebayor and Jermain Defoe failed to deliver last season.
Adebayor in particular has been linked with an exit from the club following a disappointing season with Tottenham and the Togo international is currently fielding interest from Besiktas.
Should Adebayor leave Tottenham in the summer Andre Villas-Boas will have a massive task on his hands attempting to form an attack capable of finishing in the top four.
Spurs are also believed to be considering a move for Christian Benteke, with the Aston Villa hitman submitting a transfer request this week. But with Villa reportedly hoping to garner £30m from any possible sale, and after Tottenham already broke their transfer record for Brazilian midfielder Paulinho,Villas-Boas' budget is likely to be tigher.