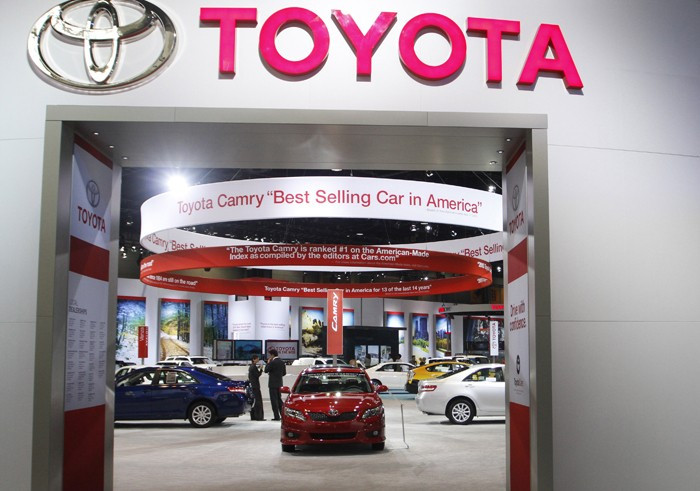 Toyota Motor Corp has announced it will suspend production in North America on Saturday following a shortage of parts, the latest signs that the floods in Thailand have started to affect the giant automaker's global operations.
Toyota has announced it will stop production for one day, by cancelling overtime shifts on Saturday, in Indiana, Kentucky and Ontario, Canada, following an interruption of supply of some of its components made in Thailand.
"We will continue to monitor the supply situation in Thailand," the company's North American unit said in a statement.
The flooding in Thailand, where as many as 10,000 factories have been inundated, comes as Toyota planned to ramp up production this fall to try and recover from the fall in output caused by the Japanese earthquake that shook the country in March.
Productions in its Japanese factories went up by 1.2 per cent in September 2011 compared to September 2010, with 309,389 vehicles produced.
Massive flooding in Thailand threatens to hamper the efforts by Toyota and other Japanese auto makers with facilities in that country to ramp up production this fall in order to make up for lost output in the wake of an earthquake in Japan earlier this year.
Ford Motor Co. has also suspended output in Thailand on parts-supply shortages, the companies said Wednesday, despite fears it may lose production of 30,000 vehicles.
"Although our vehicle assembly plant is not affected, a number of our suppliers are," Booth said on the call. "We are working closely with our affected suppliers to return to production as quickly as possible," Lewis Booth, chief financial officer at the Dearborn, Michigan-based carmaker, said.
Honda, Japan's third largest car maker, also revealed it was forced to put off the release of a partly redesigned Life Diva because it has been unable to procure the necessary parts from flood-hit Thailand.
As levels of water in certain areas of Bangkok refuse to go down, Prime Minister Yingluck Shinawatra warned it may take up to a month before the water drains into the Gulf of Thailand, south of the capital.