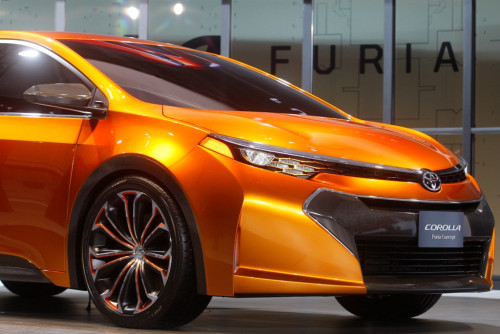 Toyota Motor outsold General Motors and Volkswagen in 2013 to retain its rank as the world's best-selling automaker for the second year in a row as the weak yen supported sales overseas.
The Japanese firm forecast more than 10 million in sales for 2014 on strong demand in the US and China, the world's two largest auto markets. The weaker Japanese currency is expected to continue helping the firm compete with its global rivals.
Toyota's sales rose 2% in 2013 to 9.98 million vehicles, the company said in a statement on 23 January.
By comparison, GM sold 9.71 million vehicles in 2013, a 4% annual increase, while Volkswagen said its sales rose around 5% to more than 9.7 million vehicles last year.
Southeast Asian Drag
Southeast Asia surfaced as the main drag on Toyota in 2013. Deliveries dropped 14% in Thailand and could fall 10% this year. Government subsidies aimed at encouraging first-time vehicle buyers have ended and the Thai economy has slowed amid a political crisis.
Toyota has said it could revise plans to invest up to 20bn baht ($608m, £366m, €446m) in Thailand, and trim production, if political unrest in Southeast Asia's largest auto market continued.
China Demand
China, where Toyota expects to sell 1.1 million cars this year, is the first country the world over to report in excess of 20 million vehicle deliveries in any given year.
Total wholesale deliveries rose 14% to 21.98 million units in 2013, while passenger vehicle sales shot up 16% to 17.93 million, the state-backed China Association of Automobile Manufacturers said on 9 January.
US Market
Global automakers are also vying for supremacy in the US, where deliveries rose 7.6% to 15.6 million units last year.
In the US, Toyota's largest market, sales of Toyota, Lexus and Scion models rose 7.4% to 2.24 million, the most since its 2007 record year.
The Camry sedan remained the top-selling American car for a 12th straight year as the weaker yen afforded Toyota room to offer higher incentives on the car.
Toyota regained the global sales crown in 2012, after slipping to third place behind GM and Volkswagen in 2011, subsequent to natural disasters in Japan and Thailand.
Earlier, Toyota had led the global auto industry from 2008 through 2010.