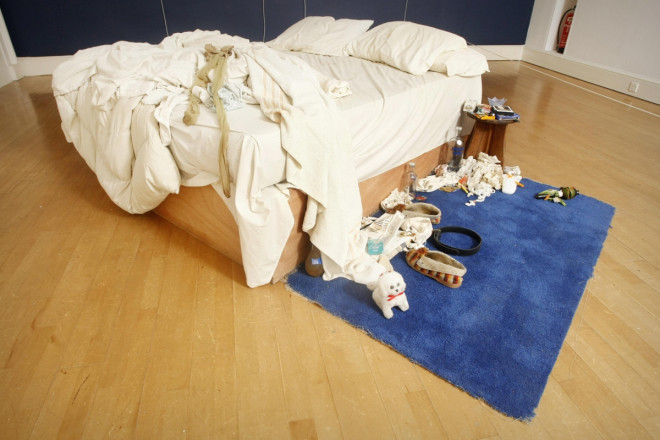 Tracey Emin's most controversial art work My Bed is set to be sold at a Christie's auction by its owner Charles Saatchi.
The installation, which features an unmade bed surrounded by empty vodka bottles, used condoms, blood-stained pants and cigarette butts, divided opinion when it was nominated for the Turner Prize in 1999.
My Bed, which Emin says was the result of a painful love break-up, is estimated to sell for between £800,000 and £1.2m when it goes on sale, although some experts predict it could eventually go for more.
Art critics and public opinion was divided on the piece and it is still cited in debates about what constitutes real art to this day. Emin said the bed was left in the same state it was after she spent several days in it following the end of a relationship.
Despite the controversy and losing out on the Turner Prize to Steve McQueen, who went on to direct Oscar-winning film 12 years a Slave, My Bed drew record numbers of visitors to the Tate when it was displayed and helped Emin, a leading light of a generation of young British artists (YBA's) become one of the most well-known and successful British artists of the 21st Century.
She originally refused to sell to Saatchi because of his Conservative political views. However, she finally agreed a deal with the reclusive art collector for a reported £150,000 in 2000.
Saatchi originally planned to donate his private collection to the nation for free if his gallery in Chelsea was given museum status. He withdrew the offer after the Arts Council said they wanted to choose which items would go on display themselves.
Speaking to the Telegraph, Emin described the sale of her work as "the end of an era".
"Saatchi's had this Nineties thing in his house like a time capsule," she said. "Now it's historical."