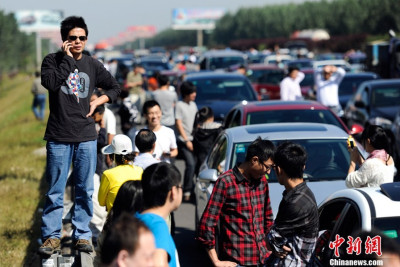 Millions of people in China have been stranded in traffic jams all over the country after the government suspended motorway tolls to allow cheap travel on the first day of the Mid-Autumn Festival.
It was estimated that more 85 million people in about 20 million cars took to the roads on the first day of the eight-day holiday, gridlocking 24 motorways across 16 provinces after a series of accidents on roads much more busy than normal.
China Daily said that Li Daokui, an economics professor at Tsinghua University, called the decision to provide toll-free travel foolish.
Xiao Ju, an associate professor at Shenzhen Univerisy, said that the government was not sufficiently prepared to handle the extra numbers on the roads.
Police across China were mobilised to cope with the jams. The Ministry of Public Security said: "Police have opened 743 service stations along inter-provincial expressways and established up to 14,000 temporary service booths to help control traffic.
"More than 16,000 wreckers and ambulances have been put on standby for emergencies and accidents along busy sections."
Many stranded drivers and passengers use the time to play sport or walk their dogs. Portable toilets were set up. Pictures of the jams were posted on Weibo, the Chinese equivalent of Twitter.
One man stuck in traffic told the Shanghai Morning Post that it took him over 10 hours to travel the 190 miles (300km) between Shanghai and Nanjing.
China has experienced worse jams. In 2010, a 60-mile traffic jam on the Beijing-Zhangjiakou highway lasted over 11 days.