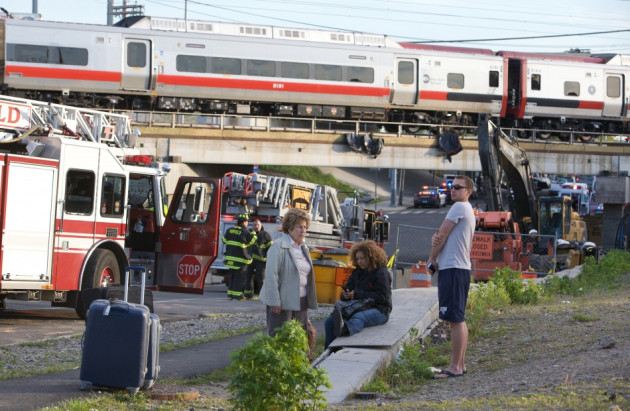 A head-on rush hour train crash in Connecticut, USA, has left 60 people injured, five of them critically.
One of the trains, carrying 250 people, was travelling from New York's Grand Central Station to New Haven, Connecticut.
At about 6pm local time (10pm GMT) the train derailed near Bridgeport, Connecticut, and was hit by another train carrying about 400 people, coming in the opposite direction, said the Metropolitan Transport Authority.
Connecticut Governor Dannel Malloy said the front of one of the trains had been extensively damaged and its wheels were "sticking into the other train".
One of those most badly injured was described as being in a "very critical condition".
"I thought there was a bombing," said Natalie Sepulveda, 23, who had been on the westbound train with her 2-year-old son.
"I smelled smoke and looked outside the window and saw a whole bunch of dust, and I grabbed my son," she told the New York Times.
Canadian passenger Alex Cohen told NBC Connecticut that "people were screaming... they had to smash a window to get us out".
One witness, Brian Alvarez, told CNN: "I saw this one car [carriage] and it was completely destroyed and they were pulling people out of the car. They were all bloody."
It is not yet known what caused the crash, and officers from the National Transportation Safety Board are to investigate the incident.
The service between New York and Boston was suspended after the crash
Bridgeport Mayor Bill Finch said that travel disruptions may persist for weeks because of damage to the two tracks.