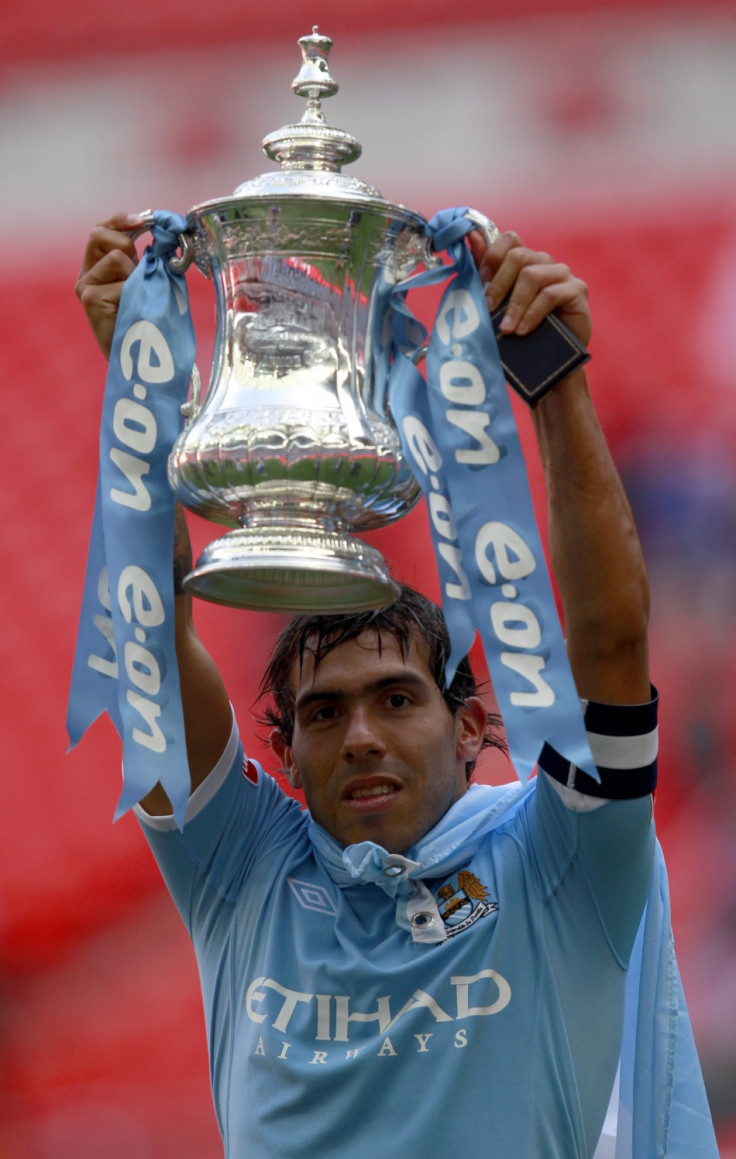 All the latest transfer rumours from Real Madrid as Jose Mourinho continues to shape his squad for the 2011/12 La Liga season. The Real Madrid manager is said to be ready to offer Manchester City up to £40m for Carlos Tevez and will fund the deal by selling Karim Benzema to Arsenal. There are further developments on the Neymar deal as Fernando Gago reveals he wants a return to Boca Juniors.
The Daily Star reports that Real Madrid is preparing a £40m bid for Manchester City striker Carlos Tevez. The Argentine striker has said that he wants to leave Manchester City this summer and was thought to be on the verge of a move to Inter Milan. However, the newspaper claims that Jose Mourinho is now ready to show his hand in a bid to bring in the world class striker he desires.
The newspaper claims that while Inter Milan remain the favourites to sign Carlos Tevez, talks have stalled over the strikers wage demands; offering Mourinho a chance to hijack the transfer. The Portuguese tactician believes he can win the race to sign Tevez especially given his new status as Real Madrid's head of Football Operations.
How will Real Madrid fund the transfer? The football website Caught Offside claims that Real Madrid will sell Karim Benzema to Arsenal, in a bid to fund a move for Tevez. Jose Mourinho is said to be fully aware that Arsene Wenger is a keen admirer of the France international and believes that the Arsenal manager will look to sign Benzema once he has the funds from Cesc Fabregas' impending transfer to Barcelona.
The long running transfer saga of Neymar's on and off again move to Real Madrid has once again taken a twist. Sky Sports report that Santos has warned Real Madrid not to expect to sign the Brazilian wonder kid on the cheap. Santos' sporting director Pedro Luiz Nunes Canceicao has reacted angrily to reports that Madrid feel they can snap Neymar up for less than his buyout clause.
"We don't understand how a club can spend €30million on a defender like (Fabio) Coentrao and not €45million for a striker that scores goals and provides a spectacle. We have no intention of opening negotiations for Neymar at this stage. He wants to stay and we want him to stay," he told Sky Sports.
Real Madrid defensive midfielder Fernando Gago has revealed that he wants to return to Boca Juniors. The Argentine international has had a torrid time in the past two seasons at the Bernabeu and Jose Mourinho has told the midfielder he is surplus to requirements. His agent, Marcelo Lombilla, has confirmed his client wants a return to Argentina. "Fernando's wish is to return to Boca and that is what we are going to try and get. You can see how much desire he has to go back. It is such that I still can't believe he would give up so much money," he told Argentine publication Ole.
It was believed that Liverpool wanted to sign the player but after completing deals for Charlie Adam and Jordan Henderson, interest from Liverpool has cooled.
For more information on Karim Benzema's reported transfer to Arsenal click here