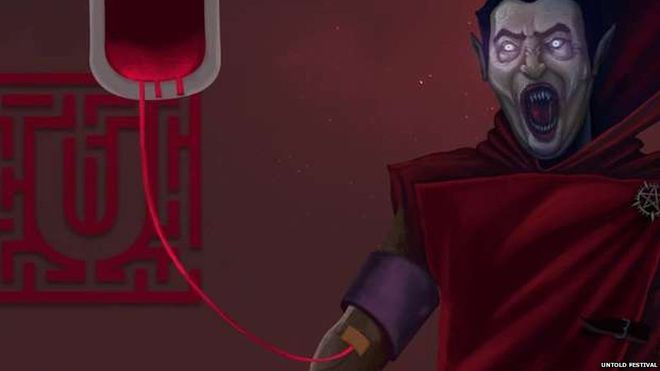 Untold, a Transylvanian music festival, is offering discounted tickets to festival-goers who donate blood.
Romania has the second lowest number of blood donors in Europe, according to the National Institute of Blood Transfusion, with only 1.7% of the population donating.
Using the country's association with Bram Stoker's Dracula, festival organisers, in conjunction with the Romanian National Blood Transfusion Institute, settled on a novel way of tackling this problem.
"Given that Romania faces an acute blood shortage in medical facilities, a campaign that takes inspiration from these myths in order to draw attention to a real problem is more than welcome," the festival's director general Bogdan Buta said.
Set in the city of Cluj, the Untold festival runs from 30 July to 2 August, and organisers are offering a 30% discount to anyone who donates blood at one of the country's blood centres, or a free one-day pass to anyone who donates blood at a special mobile unit set up in Romanian capital Bucharest or in Cluj-Napoca.
"We were talking about how to incorporate Dracula into our festival and after seeing the numbers and how behind Romania was in blood donations we had this idea," festival spokesperson Stefana Giurgiu told The Guardian.
She said that so far the idea had proved to be a success, with 45 young people signing up to give blood on the campaign's first day alone.