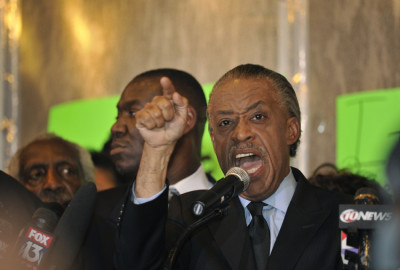 Civil rights leader Reverend Al Sharpton was among thousands who attended protest marches calling for justice for 17-year-old Trayvon Martin.
Martin, who was visiting family in Sanford, Florida, was walking home carrying a bag of skittles and a can of drink when he was chased and shot by George Zimmerman, a neighbourhood watch volunteer, on February 26.
Zimmerman, 28, claimed he shot Martin in self defence and Sanford police said there was no evidence to the contrary.
The shooting caused a furious outcry from campaigners who claim Martin was targeted because he was black and wearing a hooded jumper. his parents, Tracy Martin and Sybrina Fulton claim his death was a case of racial profiling.
Thousands took to the streets in Florida on Thursday, with Sharpton addressing the crowds at Fort Mellon Park.
He said: "We cannot allow a precedent when a man can just kill one of us...and then walk out with the murder weapon.
"We don't want good enough. We want George Zimmerman in court with handcuffs behind his back."
On the same day as the rally, Sanford police chief Cill lee temporarily stepped down.
He said: "I am aware that my role as a leader of this agency has become a distraction from the investigation. It is apparent that my involvement is overshadowing the process."