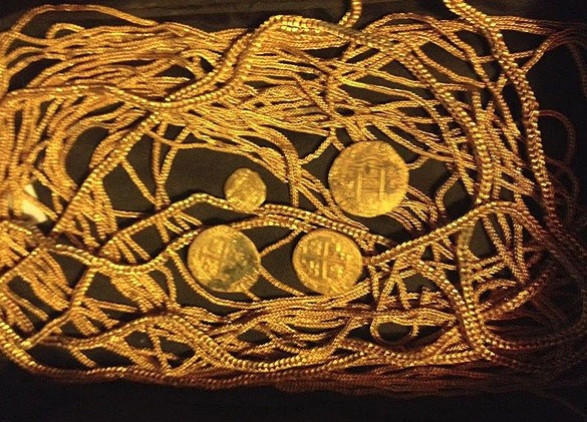 A Florida family finally struck gold after discovering $300,000 (£191,000) in sunken treasure.
The Schmitts of Sanford, Florida, found a 64ft gold chain, five gold coins and a gold ring on the seabed off the coast of Fort Pierce. The bounty was part of the cargo of a Spanish fleet, scuttled by a hurricane.
The storm, more than 300 years ago, sent 11 ships to the bottom with the loss of more than 1,000 lives.
The Schmitts, a family of four, had spent every weekend diving for buried treasure.
"This is like the end of a dream," Rick Schmitt, 65, said.
Brent Brisben, co-founder of the company that owns the rights to dive on the wreckage site, said: "What's really neat about them is they are a family, they spend family time together out there. The most amazing part about them is they always believed this day would come.
"To be the first person to touch an artefact in 300 years is indescribable. [The gold was] there 150 years before the Civil War. It's truly remarkable to be able to bring that back."
Under Florida law up to 20% of the rarest finds must be displayed in museums. The rest of the haul will be divided up between Brisben's company and the Schmitts.