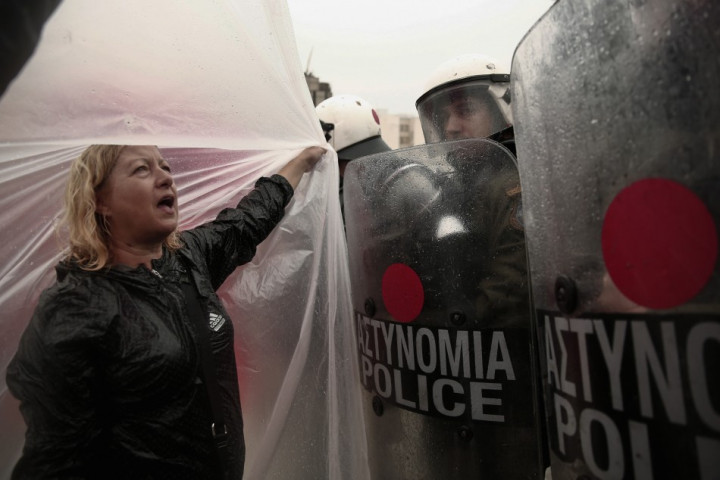 A general strike in Greece that has brought the country to a standstill is the latest move from within a culture of protest against austerity, that has gripped the nation since it was swallowed by the European sovereign debt crisis.
Greece has been in recession for six years and has been the focal point of raging debates about the effectiveness of austerity policies. The fact table below shows the evolution of protests against austerity in Greece over the past four years.
Greece's Debt Crisis: 2009
In December 2009 Greece's debt crisis comes to light as clashes break out in Athens over the killing of a teenage boy a year before. There are fears that the Greek government could default on its debt. Prime Minister George Papandreou announces that he will implement harsh spending cuts.
From January-March 2010 the government announces two more rounds of tough austerity measures leading to widespread protests.
1st Bailout: 2010
In April-May 2010, it becomes clear that Greece cannot handle its own financial crisis. In response eurozone countries approve the first massive bailout package to rescue the country with a €110bn ($145bn, £91bn) bailout. Papandreou announces further rounds of austerity which lead to trade unions calling for a general strike.
In October 2010, the government announces tougher austerity measures including higher taxes and VAT.
General Strike: 2011
In February 2011 international lenders say that Greece is not doing enough to impose austerity measures and must accelerate reforms to get on track.
The crisis worsens in June 2011 as a 24-hour general strike is called and tens of thousands take on the government to reject deeper austerity measures.
2nd Bailout Stalls: 2011
As the economic situation in Greece deteriorates a second major bailout is agreed via the European Financial Stability Facility that gives the country €109bn to stop its situation worsening.
Increasingly it appears Greece will experience a default. Eurozone leaders agree to trim Greece's debt by 50% if the pace of austerity measures is increased.
The intense political climate makes prime minister Papandreou resign from office in November 2011 as his plan to call a referendum on the eurozone's rescue package - a trade-off for further austerity - collapses.
Other Bailout Ideas: First Half of 2012
Talks with Greece's international creditors stall endangering the €130bn Troika rescue package Greece needs to meet its next debt repayment deadline in March 2012.
In February 2012, the Greek parliament approves a fresh round of tough austerity measures with the EU in return for a €130bn bailout.
In May, early parliamentary elections see a dramatic drop in support for mainstream parties, as anti-austerity representatives gain a foothold.
Second Half of 2012
The top three ranking parties fail to form a working coalition and fresh elections are called for on June 17.
In June 2012, after further parliamentary elections, a newly-formed coalition agrees to pursue austerity measures. Prime Minister Antonis Samaras comes to power leading the fragile coalition.
Anti-Austerity Protests
In September 2012 trade unions stage a massive 24 hour general strike against austerity measures.
In October 2012 the draft budget for 2013 forecasts further economic contraction and a higher debt burden. Samaras warns his government that the country will run out of money by November unless it receives international aid.
Parliament manages to pass a €13.5bn austerity plan to secure the next round of IMF and EU loans.
In November eurozone finance ministers agree that Greece should receive the next tranche of a bailout loan in December. The deal is seen as a preventative measure to help Greece remain in the euro.
Golden Dawn: 2013
In January the unemployment rate hits 26.8% and the government passes a bill that axes 15,000 civil service jobs, which had been constitutionally guaranteed for life.
In June the public broadcaster ERT is shut down and prompts a 24 hour general strike in reaction.
Departures leave Samaras's government with a slim majority of three in parliament.
In September a left-wing activist and hip hop artist Pavlos Fyssas is murdered. It is suspected he was killed by a neo-Nazi.
Demonstrations take place across the country in protest against the murder.
The government then decides to launch a crackdown on the Golden Dawn party. Nikolaos Michaloliakos and five other Golden Dawn MPs are arrested on charges of belonging to a criminal organisation amid other charges of money laundering and assault.
On the 6 November 2013 a general strike takes place against the latest visit of the troika which is in Greece to review the country's austerity driven reforms.