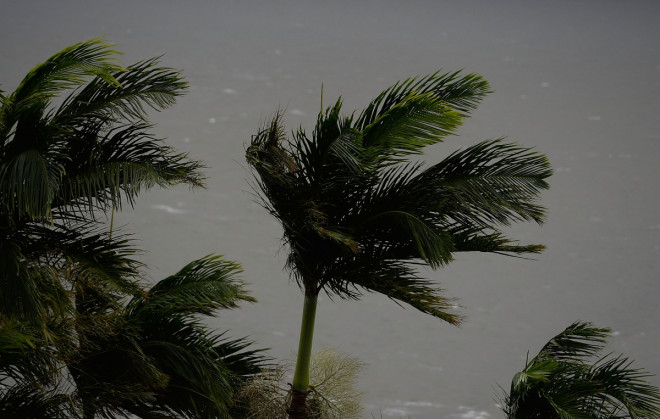 Tropical Cycone Ita has hit the north Queensland coast with winds over 200km/h, threatening to "wipe out" Cooktown.
The storm has been downgraded to a category three cyclone, but there were reports of flying debris and the Bureau of Meteorology has warned of flash flooding and a dangerous storm tide.
Cooktown local administration officer Gail Cowe told news.com.au: "If we get the eye of the cyclone over us, I think it'll wipe us right off the map."
Russell Bowman, a Cooktown resident, told ABC: "It's very very gusty now. I guess the next hour or two will be the real tell. There are some big gusts blasting through and there's sweeping rain with the wind now
"I've seen some comments on social media that there are some trees down and some roofs gone as well but we've heard nothing just near to us to indicate anything.
"We're in a little bit of a hollow here so we are just tucked down and waiting. I'm sure we're going to wake up to quite a bit of devastation in the morning."
Before the storm hit, thousands of people were told to prepare to evacuate, with coastal residents between Cape Flattery and Cape Tribulation warned of a risk of flooding.
"The sea is likely to rise steadily up to a level which will be significantly above the normal tide, with damaging waves, strong currents and flooding of low-lying areas extending some way inland,'' the BoM said.
Issuing advice as to what to do when the cyclone strikes, the BoM issued the following:
When the cyclone strikes
Disconnect all electrical appliances. Listen to your battery radio for updates.
Stay inside and shelter (well clear of windows) in the strongest part of the building, i.e. cellar, internal hallway or bathroom. Keep evacuation and emergency kits with you.
If the building starts to break up, protect yourself with mattresses, rugs or blankets under a strong table or bench or hold onto a solid fixture, e.g. a water pipe.
Beware the calm 'eye'. If the wind drops, don't assume the cyclone is over; violent winds will soon resume from another direction. Wait for the official 'all clear'.
If driving, stop (handbrake on and in gear) - but well away from the sea and clear of trees, power lines and streams. Stay in the vehicle.
After the cyclone
Don't go outside until officially advised it is safe.
Check for gas leaks. Don't use electric appliances if wet.
Listen to local radio for official warnings and advice.
If you have to evacuate, or did so earlier, don't return until advised. Use a recommended route and don't rush.
Beware of damaged power lines, bridges, buildings, trees, and don't enter floodwaters.
Heed all warnings and don't go sightseeing. Check/help neighbours instead.
Don't make unnecessary telephone calls.
Ita is expected to weaken over the coming hours, but Premier Campbell Newman has warned that communities are still "staring down quite a destructive event".