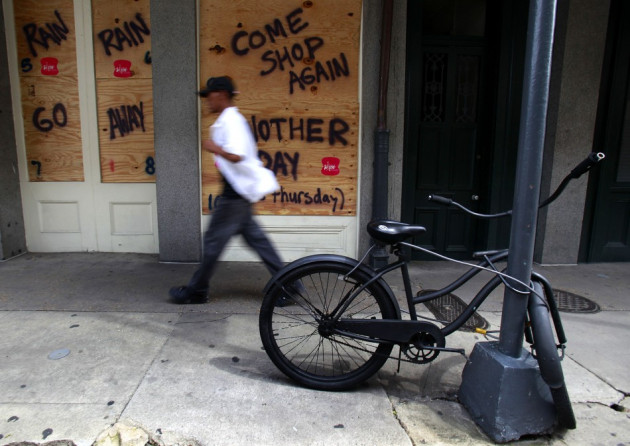 Tropical storm Isaac is expected to lash the United States Gulf Coast triggering a high alert in the southern states of the US.
President Barack Obama approved the request for a federal disaster declaration for Louisiana to make federal funds available to clear debris and other plans of recovery.
The disaster zone includes neighbouring Alabama and Mississippi as the storm is predicted to reach Category 2 hurricane strength with a top wind speed of 100mph (160km/h).
Isaac is moving towards New Orleans and is expected to make landfall and flood the northern Gulf Coast with high waves of up to 12 feet (3.6 metres) in some areas.
"The weather will start going downhill overnight tonight on the northern Gulf Coast. Wherever it is people are going to be during the storm, they need to get there tonight," said National Hurricane Center [NHC] Director Rick Knabb.
Authorities have asked thousands of residents in the coastal areas of New Orleans, Louisiana, Mississippi and Alabama to evacuate fearing the occurrence of a catastrophe similar to the one caused by Hurricane Katrina seven years ago.
At least 1,800 people were killed when Hurricane Katrina lashed New Orleans, which is below sea level, on 29 August, 2005. The city is yet to recover from the massive damage it caused.
"That brings a high level of anxiety to the people of New Orleans. I want to tell everybody now that I believe that we will be OK," said New Orleans Mayor Mitch Landrieu.
At 8 pm EDT (24: 00 GMT), Isaac was swirling 230 miles (370 km) southeast of the mouth of the Mississippi River. Isaac is moving forward with a wind speed of 10mph which could reach between 96-110mph before it makes landfall, said the NHC.
The ports of Mobile and New Orleans have been closed as a precautionary measure and barge traffic has been suspended along southern portions of the Mississippi River to avert eventualities such as the ones caused by hurricanes Gustav and Ike.
Hurricanes Gustav and Ike disrupted offshore oil production for months and damaged onshore natural gas processing plants and pipelines in 2008.
Oil refineries along the Gulf Coast constitute 40 percent of America's refining capacity.
Isaac has left a trail of havoc when it Haiti and Dominican Republic before reaching Florida Keys. At least 24 people were killed in Haiti which is yet to recover from the 2010 devastating earthquake.