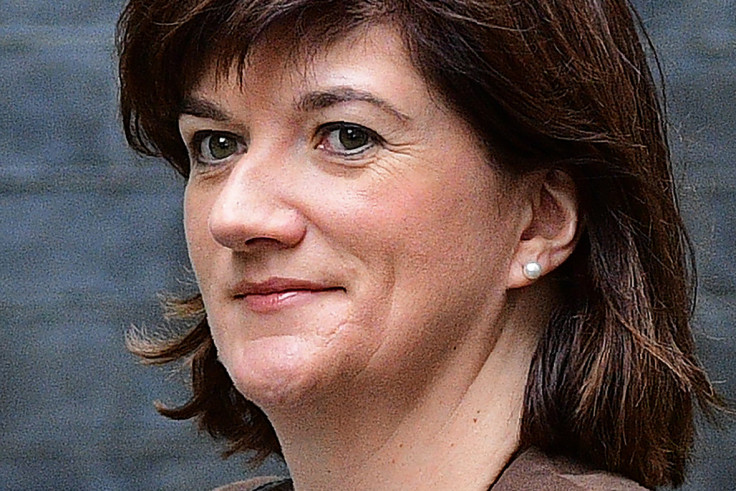 Nicky Morgan has been told to stay away from Downing Street after the former education secretary appeared to criticise Prime Minister Theresa May for her choice of trousers. Morgan was supposed to attend a meeting of Remainers and May at Downing Street but according to the Guardian had her name deleted from the list.
The Conservative MP for Loughborough had her name removed after she said of the £1,000 trousers May wore in a photoshoot for the Sunday Times, "I don't have leather trousers. I don't think I've ever spent that much on anything apart from my wedding dress," Morgan had said.
Her words irked Number 10 and the Mail on Sunday reports the invitation - which was also sent to pro-EU Conservatives including Sir Nicholas Soames and Anna Soubry - was rescinded after May's joint chief of staff, Fiona Hill, decided she was persona non grata.
The newspaper also revealed how Hill texted MP Alistair Burt - who was also invited to attend the meeting - saying "Don't bring that woman [Morgan] to Downing Street again."
Morgan replied: "If you don't like something I have said or done, please tell me directly. No man brings me to any meeting. Your team invites me. If you don't want my views in future meetings you need to tell them."
Hill's then said: "Well, he just did. So there!" suggesting Burt had brought Morgan to an earlier meeting. The Mail claims Downing Street then said Morgan was not invited to see the prime minister.
Meanwhile, commenting on reports of May's trousers, Tory backbencher Ken Clarke said media reports were getting "sillier". He also told Sunday Politics how he felt sorry for women politicians whose clothing was commented on while men don't have stories on what they are wearing, "apart from my shoes"[Clarke was famed for wearing Hush Puppies' shoes].