True Detective Episode 6 Review: Haunted Houses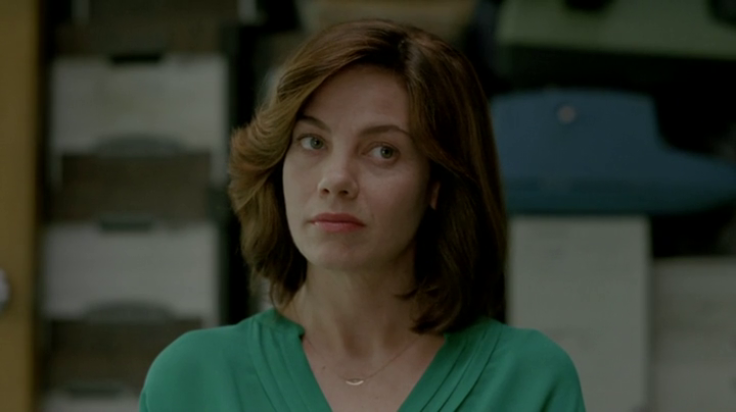 And so, the inevitable fallout between detectives Marty Hart (Woody Harrelson) and Rust Cohle (Matthew McConaughey). The flashback structure used throughout the series has made us aware in advance of a schism appearing between the two in 2002, and in this week's episode we found out what drove them apart – a woman. Having Hart's wife Maggie (Michelle Monaghan) as a predictable plot device to separate the two made Haunted Houses the weakest episode of True Detective so far.
"Rust knew who he was. Hart doesn't."
Maggie is interrogated by present day detectives Papania (Tory Kittles) and Gilbough (Michael Potts) about how well she knew Rust. As she remarks: "Rust knew who he was, Hart doesn't".
For the conflicted family-man Hart hasn't changed after all these years. Here, he's the stereotypical bad dad; heavily drinking, TV hogging, and even beating up two teenagers who have sex with his daughter.
Cohle on the other hand knows that he's a loner, but at least a dogged and resolute one. In his reopening of the Dora Lange murder, he continues to snoop around religious figures in the area, much to the chagrin of his superiors.
Cohle has the scent after former preacher Theriot (Shea Whigham) reveals that the Wellspring religious schools foundation funded by Tuttle covered up child molestation scandals in the 1990s, and his efforts on the case leave him to disregard Hart more and more, coldly saying at one point, "There's no you without me".
No Country For Women
There's a bitter tension in the air between the two as they meet victimised women from their past. Cohle meets the heavily traumatised woman he saved at the meth lab, who reveals there was a third man, with heavy scars, who abused her.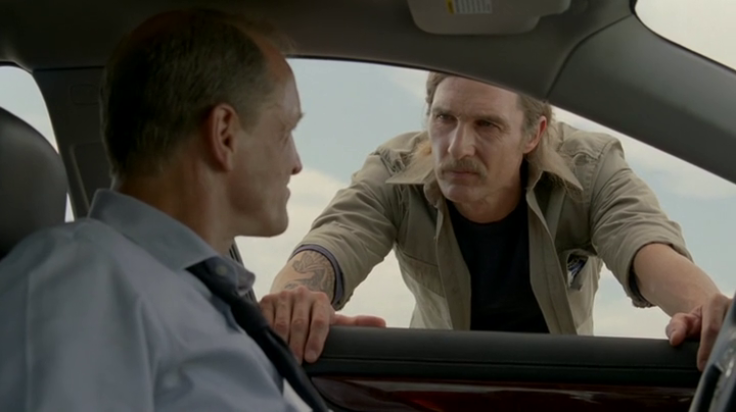 Rust (Matthew McConaughey) confronts Marty (Woody Harrelson) in 2012.
HBO/Sky Atlantic
Hart meanwhile runs in to Beth (Lili Simmons), the girl at the brothel to whom he gave money to escape from a life of prostitution. It turns out that Cohle's snide remark about it being a down-payment was right after all, as in a tediously contrived scenario the two have an affair. The show's male wish-fulfilment continues as this beautiful young woman is more than happy to have sex with the balding middle-aged Hart, her breasts gratuitously flouted on camera during coitus in what is becoming HBO's signature shot.
Deus Sex Machina
This film noir depiction of men as conflicted and women as easy makes sense from a genre standpoint, but the gossamer characterisation of the few females in the show mean that when they are involved in important scenes, the story feels hollow. Case in point: the role Maggie played in splitting Rust and Marty's partnership.
On discovering Hart's womanising ways she goes out soliciting men at a nearby bar, before seducing Cohle as the ultimate means of revenge.
Her and Cohle's betrayal of Hart is clearly meant to be the major turning point in the show, but it rang hollow because Maggie seems to only exist as a convenient plot device, the "deus sex machina",' as it were, that splits up Hart and Cohle.
It does the trick, as Hart flies into a fit of rage and engages in a bruising brawl with Cohle outside the police station. Cohle quits the force and the partnership is severed. But just as Papania and Gilbough appear to be convincing Hart that Cohle is responsible for the killings all these years, including the recently deceased Governor Tuttle, his former partner appears driving behind him, and asks if he wants to buy him a beer.
With the story now set in the present day, it will be fascinating to see how Cohle and Hart interact in their pursuit of the real Yellow King. Can they work together again after so many years, and so much history between them? Whatever happens, don't expect women to play a prominent part.
© Copyright IBTimes 2023. All rights reserved.