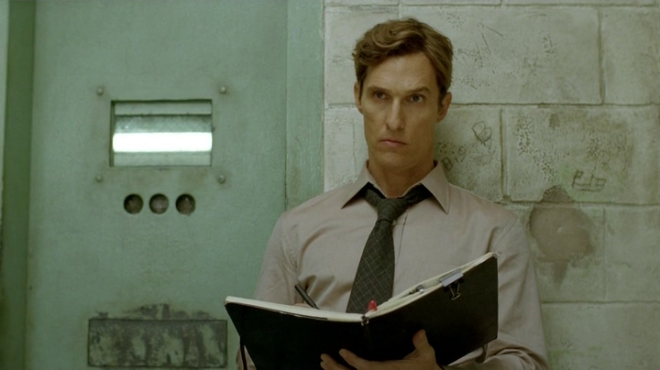 Wow. Well let's start with that long take. In the first few episodes of True Detective I've praised the richly layered writing of show runner Nic Pizzolatto, so it's only fair that the show's director Cary Joji Fukunaga gets his turn in the spotlight.
It's not hyperbole to say the six minute sequence (or 353 seconds if I counted correctly) is one of the most ambitious things ever attempted in a TV drama. The long take has been used throughout cinema history from the dazzling opening of Orson Welles' Touch of Evil to the latter day usage in Oscar winning films Gravity and 12 Years a Slave. But television, a medium that for so long has relied on the cheap, quick and effective, prioritising dialogue over action and the close-up over the wide shot, rarely tries anything so visually daring.
But the long take here, as Rust Cohle (Matthew McConaughey) finds himself having to make his own exit plan after a motorcycle gang's smash and grab goes awry, is a rubber stamp that marks the cinematic grandeur of True Detective.
Six Minutes of Madness
The moving camera sees Cohle find a way out of a firefight, drag Ginger (Joseph Sikora) in tow, and seek an escape in Hart's car whilst pandemonium between local residents and police ensues, but beyond being technically audacious the take serves as a nightmarish odyssey for the viewer, an uniterrupted adrenalin rush that plunges us headlong in to the black hole Rust has inhabited once more in order to gain information from the biker gang.
It was the cinematic crescendo to an hour of television which took detectives Cohle and Hart (Woody Harrelson) to dark places, with the former reliving his former undercover junkie role, whilst the latter sees his marriage crumble before him.
"You blew up my life"
Hart discovers that possessively treating women with no respect can have its consequences, as an enraged Lisa (Alexandra Daddario) spills the beans on their affair to his wife Maggie (Michelle Monaghan). She promptly leaves, and Hart finds himself lost without the family around him.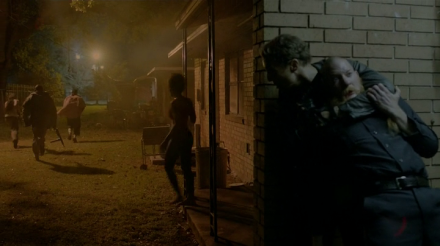 Hart has proved himself wholly unsympathetic throughout, but Harrelson carries these emotional scenes with aplomb, presenting the promiscuous detective as more pathetic than spiteful. Moving in with Cohle, he now finds his situation similar to the once-married detective he works with.
You'd think it would make Cohle more sympathetic to his story, but he dismisses his problems when Hart tries to open up, and later lies that Maggie wants to reunite in order to keep him focused on his job. He even coldly chastises Charlie Lange for showing off pictures of his wife in prison, implying that he inadvertently caused her death when he showed them to Reggie Ledoux. Hart summaries his character perfectly when he asks, "Are you like the Michael Jordan of being a son of a bitch?"
Heart of Darkness
Such cold-heartedness gives you the impression of a man who's seen the dark tunnel at the end of the light, and that he is well prepared for what lies ahead. Getting in to junkie character again in order to make contact with Ginger, he first unveils the impressive arsenal in his toolbox before getting high off the cocaine in the police storeroom.
He's in his element at the biker bar, conversing with the Iron Crusaders whose beards are even more outrageous than the ones you find in east London. McConaughey brilliant pulls off the multiple personas Cohle is inhabiting, loquacious and strung-out in appearance, but eyes that are constantly alert to the situation around him.
The shot of Hart seeing Cohle be driven off down the creek with the other bikers suggested the enigmatic detective was entering both Louisiana's, and his own, heart of darkness. The question is what will he find at the end of it?