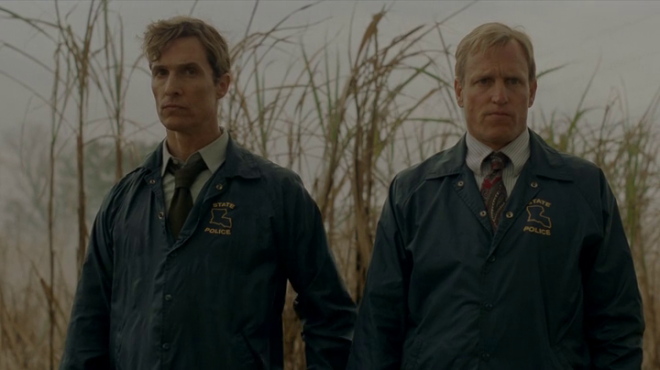 It's become a cliché to talk of modern TV shows emulating the movies, but HBO's new show True Detective really is the greatest example yet of just how 'cinematic' the small screen has become. Look at the cast for one, where Hollywood stars Matthew McConaughey and Woody Harrelson play the two detectives on the hunt for a serial killer down in Louisiana. That's not all, for in an unprecedented move for US television drama, all episodes of the eight-part first season have a sole writer, Nic Pizzolatto, and director, Cary Joji Fukunaga.
HBO have seen their crown as king of quality TV drama slip in recent years, with AMC producing the likes of Mad Men and Breaking Bad, FX serving up Justified and Sons of Anarchy, and now online streaming juggernaut Netflix getting in on the act with original shows House of Cards and Orange is the New Black. Is True Detective then the start of a HBO second coming?
Not your typical Police Procedural
The first episode is extremely promising. The initial opening credits immediately set the scene, a highly stylised montage of superimposed bodies and faces acting as windows to the Louisiana landscape over country music; evoking the opening titles of HBO's other southern set show, True Blood.
The format itself doesn't strike out as anything particularly radical. Another addition to one of the most enduring TV drama genres, the police procedural, sees Harrelson and McConaughey play detectives Marty Hart and Rust Cohle, an odd-couple partnership where one is a simple family man, the other a conflicted and obnoxious loner.
But with the familiarity of the genre format in place, it's the layered characters, dreamlike setting and yo-yoing narrative framework where True Detective stands out. For we're jumping between two time periods, as in 2012 the two characters are separately interviewed by police and are asked to recollect their hunt for a serial killer in 1995, one whom they fear is striking out again.
Enigmatic and Philosophical
Normally the murder would be the focus on interest, but here the two detectives are questioned about the time when Cohle was invited over to Hart's family dinner with equal curiosity. The serial killer might be what drives the narrative forward, but it's in exploring the relationship between these two detectives, what happened in 1995, and what went wrong between them for them to have not seen each other in ten years, where Pizzolatto's main interests lie.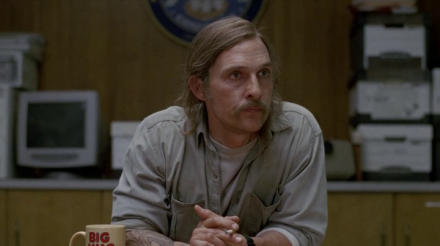 On the surface the two of them are chalk and cheese. Harrelson's Hart is the straight man, a down to earth figure with a southern drawl who returns every night to his wife and two kids. Alongside him is the enigmatic Cohle, who doesn't say much, but when he does its excessively philosophical.
"I think human consciousness is a tragic misstep in evolution. We became too self-aware. Nature created an aspect of nature separate from itself, we are creatures that should not exist by natural law."
"You do not want to pick this man's brains."
This is reflected in how they've changed in the 2012 scenes. In middle age Hart has lost hair and gained weight, but still appears on the even keel. But we can only begin to suspect what has happened to Cohle, whose unkempt beard and bedraggled features shows a man who has let himself completely go to waste. As Hart later says to his wife, "You do not want to pick this man's brains".
Unbeknownst to him, he chooses Cohle's dead daughter's birthday to invite him round for dinner, and is furious when he turns up drunk. But he recognises that Cohle is smart, and whilst other officers dismissively refer to him as 'the taxman', he sees in that huge ledger he carries a man who documents all around him in order to try and find the crucial evidence to build a case.
The murder they uncover itself is stunningly captured here by cinematographer Adam Arkapaw, basking the colour saturated crime scene in a warm crisp light. A naked woman crouching down, wearing a crown of antlers, and with devil traps located nearby. With McConaughey standing up as a tortured scarecrow amongst the lush cornfields, here the ritualised murder lends a southern gothic element to their investigation.
It evokes the Deep South as a backwater bayou full of danger, sex and superstition. With the visit to a local pastor to discuss devil traps (played by Clarke Peters from The Wire), and later the appearance of the evangelical Christian governor, the satanic themes and magical realist elements seem set to continue through subsequent episodes.