Trump aide Sean Spicer 'listened in on calls' by US officials refuting Russia story to reporters
White House press secretary said to have enlisted CIA director and senators to convince reporters story was false.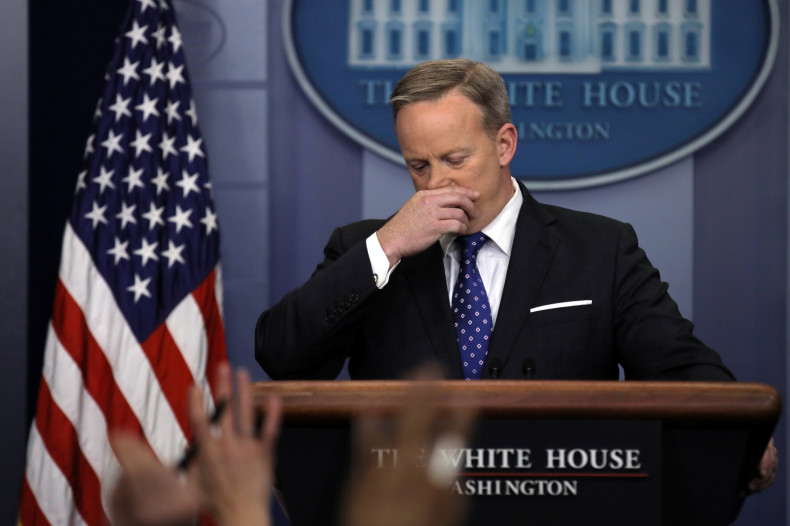 White House Press Secretary Sean Spicer not only connected top US officials with reporters in an effort to quash a story about the Trump campaign's contacts with Russia, but he stayed on the line and listened in on their conversations, according to a report.
Spicer contacted CIA Director Mike Pompeo, Senate Select Intelligence Committee Chair Richard Burr (R-NC), and House Intelligence Committee Chair Devin Nunes (R-CA) and gave them the phone numbers of reporters from The Washington Post and The Wall Street Journal, a White House official told Axios.
Each had specific instructions to speak with reporters on 15 February to quash a story published in The New York Times the day before. That story cited four current and former American officials who said phone records and intercepted calls showed members of US President Donald Trump's election campaign had repeated contact with senior Russian intelligence officials in the year before the election.
An FBI official reportedly told White House Chief of Staff Reince Priebus that the story was false. But FBI officials refused to say so publicly, leading to Spicer's campaign to have the story quashed.
During their calls, Pompeo and Burr told reporters that the story wasn't true without providing any evidence to back up their claim. "Both of them said: All I can tell you is the story is not accurate," the White House official told Axios.
The White House has not responded to IBTimes UK's request to confirm whether Spicer listened in on the calls and details about what was said and to whom.
In an article published on Friday 24 February The Washington Post said that its reporters received calls from senior government officials who "dismissed Trump associates' contacts with Russia as infrequent and inconsequential". But they "would not answer substantive questions about the issue," according to the report. The Post did not publish their comments.
The ranking Democrat on the Senate Intelligence Committee Sen Mark Warner (D-IN) later called Pompeo and Burr, according to a statement, to express his "grave concerns" about what their calls meant "for the independence" of an ongoing investigation into Russian interference in the US election.
The issue of the extent of the Trump campaign's contacts with Russia are currently under investigation by the FBI and are subject to probes in the Senate Intelligence Committee and the Senate Judiciary Committee.
On Sunday, former CIA Director John Brennan condemned the contact between the White House and FBI and efforts to get officials to dispute the story. Not only is it forbidden "because of the impropriety of doing it" he added, but also because of the "appearance that it would provide to folks on the outside that there might be some unwarranted interference in such an investigation," he told CBS News' Face the Nation host John Dickerson.
"Anybody who claims that the facts are already known in terms of what did or didn't happen between Russian officials and US persons during the election, I think, is speaking very prematurely," Brennan said.
Arkansas Republican Senator Tom Cotton, however, defended the contacts between the White House and FBI during an appearance on NBC's Meet the Press on Sunday.
"I'm not going the confirm or deny, obviously, anything in these stories because these leaks of classified information could do real harm to our national security," said Cotton, who sits on the Senate Intelligence Committee. "Isn't it reasonable for the chief of staff to then say to the FBI director, 'Well, are you going to say anything to correct the record on this, since everyone is running around Washington making these allegations?' I think that's a perfectly reasonable response."
During an interview with ABC News on Sunday House Democratic leader Nancy Pelosi (D-MA) called for independent investigation of Trump's ties to Russia and for Attorney General Jeff Sessions to recuse himself from the Justice Department investigation because he is a member of Trump's cabinet.
"You have seen a flurry of activities that are completely inappropriate, encouraging lawmakers, encouraging intelligence officials to say that something is one way or another," Pelosi said. "Let's have the investigation and find out the truth."