Amnesty International has condemned the rising trend in political rhetoric aimed at dehumanising groups of people in its annual The State of the World's Human Rights report.
The group expressed concerns over the use of "hateful rhetoric" such as that used by President Donald Trump, warning that it breeds division and fears detrimental to the protection of human rights at home and abroad.
"2016 was the year when the cynical use of 'us vs them' narratives of blame, hate and fear took on a global prominence to a level not seen since the 1930s. Too many politicians are answering legitimate economic and security fears with a poisonous and divisive manipulation of identity politics in an attempt to win votes," said Salil Shetty, secretary-general of Amnesty International.
He added: "Today's politics of demonisation shamelessly peddle a dangerous idea that some people are less human than others, stripping away the humanity of entire groups of people. This threatens to unleash the darkest aspects of human nature."
As a consequence of this rhetoric, the global response to mass atrocities is weakening in the west, allowing governments to abuse their powers and breech international law with minimum scrutiny or condemnation. Covering 159 countries, the report also condemned the "paralysed" United Nations Security Council for its failure to end conflicts in Syria, Yemen, Libya and Iraq, as well as turning a blind eye to war crimes in at least 23 countries.
"Throughout 2016, governments across the region, emboldened by this global trend, have launched attacks on civilian populations, committed war crimes and cracked down on peaceful activists, using the same dehumanising rhetoric of 'us versus them'," said Randa Habib, Amnesty International's regional director for the Middle East and North Africa.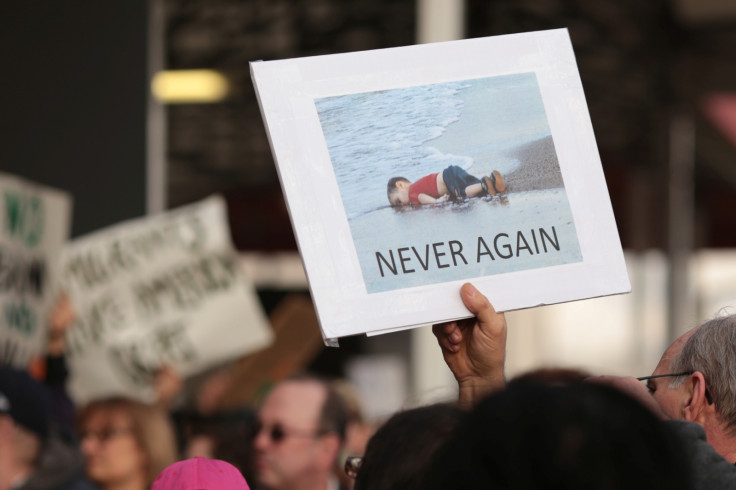 According to Amnesty International, world governments then fail to protect the victims of human rights abuse. Instead, they turn on refugees and migrants as scapegoats. Amnesty highlighted example Trump's travel ban on citizens from seven Muslim-majority countries as an example, as well as Syrian President Bashar al-Assad, who recently praised Trump's policy and said that there are "definitely" terrorists among the refugees escaping the war-torn country.
The group warned that while refugees may be the first target of the demonising rhetoric, this will lead to increased attacks based on race, gender, nationality and religion. "When we cease to see each other as human beings with the same rights, we move closer to the abyss," Shetty said.
According to Amnesty, global solidarity and public mobilisation will be crucial elements in defending human rights. He explained: "With politicians increasingly willing to demonise entire groups of people, the need for all of us to stand up for the basic values of human dignity and equality everywhere has seldom been clearer."