With just hours remaining for Americans to cast their votes to elect the 45th president of the country, Republican candidate Donald Trump and his Democratic opponent Hillary Clinton are both focusing on their end-game. Clinton is focusing on the domestic scene and Trump's campaign is making efforts to address negative views expressed overseas about the candidate.
The Democratic nominee's campaign has witnessed a surge in polls after a large number of Hispanics voted over the weekend.
Florida had a record turnout with almost one million Hispanics voting early, nearly double from 2012. "Those are probably people who are in Clinton's camp," Michael McDonald, a political science professor at the University of Florida told ABC News.
"We know that there's a large Puerto Rican community that's blossomed in Central Florida. We can see that in the data. And even Cuban Americans in the polling do not seem to favour Trump either. So those Hispanic numbers are a good sign for the Clinton campaign."
Clinton herself visited a number of migrant communities in the state on 5 November. Her campaign is looking at these early vote numbers as a positive indication of the final result.
"What I am paying very close attention to are those early voting numbers," campaign manager Robby Mook said on Good Morning America. "We saw just eye popping turnout in Florida over the last two days, particularly in our strongholds of southern Florida, North Carolina and elsewhere so we're very encouraged, very positive."
According to Nate Silver's FiveThirtyEight website, polls indicated that Clinton's chances of winning went up to 69.5% on 7 November.
On the Republican side, Trump also attempted to draw the Hispanic vote with a rally in Tampa. "The Hispanic vote is turning out to be much different than people thought," he told the audience after recognising the Hispanic supporters in the crowd and mentioning an award he was given by a group of Cuban-Americans.
"The Cubans just endorsed me," he said.
However, his campaign was also looking at the international field and has been attempting to remove the negative image their candidate has acquired abroad.
According to BBC, campaign manager Kellyanne Conway admitted that world leaders expressing their worries regarding Trump's presidency was a point of concern, but clarified that it "doesn't reflect why Donald Trump is running and who he would be on the global stage".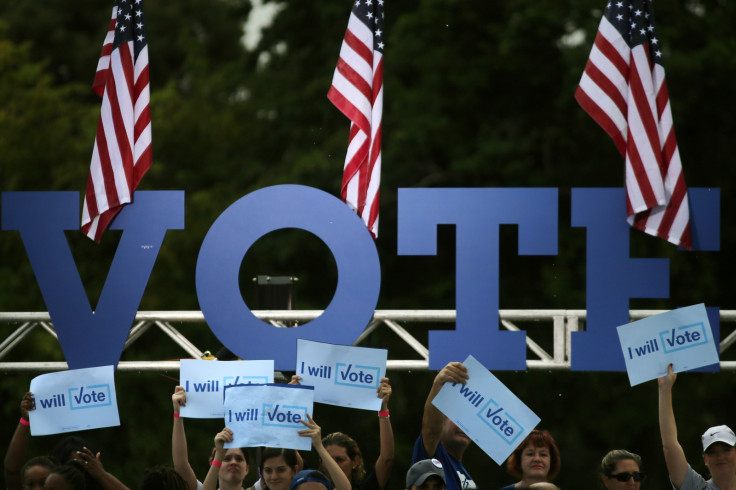 The then British prime minister David Cameron had criticised Trump's plans to ban Muslims from the US. "I think his remarks are divisive, stupid and wrong," he said at the time. Turkish President Recep Tayyip Erdoğan had also expressed concerns if the Republican won the election, and was worried about the impact it would have on relations with Muslim countries.
French President Francois Hollande said the New York businessman made people "want to retch" and even Pope Francis has expressed negative opinions of the man after he proposed to build a wall to keep Mexicans out of America.