Former Arizona Sheriff Joe Arpaio was accused of misconduct, which included abuse of power, misuse of funds, failure to investigate sex crimes, improper clearance of cases, unlawful enforcement of immigration laws, and election law violations.
On 25 August, the US president pardoned Arpaio after he was found guilty of criminal contempt for disregarding a court order in regards to a racial profiling case. "Sheriff Joe Arpaio is now eighty-five years old, and after more than fifty years of admirable service to our Nation, he is worthy candidate for a Presidential pardon," an official statement by the White House read.
Trump himself later tweeted in regards to the pardon, referring to the controversial figure as an "American patriot" who "kept Arizona safe".
Arpaio responded to the president's message, thanking him while describing his conviction as a "political witch-hunt by holdovers in the Obama justice department". He also posted a link to a fund which was collecting money to pay for his legal fees.
But not everyone seemed to be on the same page as Trump. Following the news of his pardon, people took to social media to condemn the president's actions and those of Arpaio.
Ex Judiciary Chair, Senator Patrick Leahy said that it was disheartening that Trump set the bar so low for his first pardon. "The ex-sheriff is a self aggrandizing braggart who promoted racist law enforcement practices," he said in a statement.
California Senator Kamala Harris also tweeted in reaction. "This is wrong. By choosing to pardon Sheriff Joe Arpaio, Trump is siding with discrimination. I stand in solidarity w/ the Latino community," she posted online.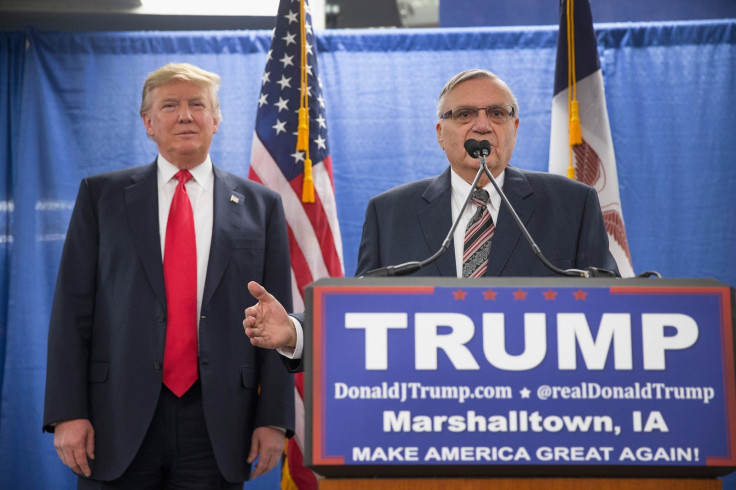 Minnesota Senator Al Franken described the pardon as "shameful and appalling" while Bernie Sanders pointed out that "Trump has again made clear he will use the powers of the presidency to defend racism and discrimination".