A former campaign adviser for Donald Trump has admitted to being in contact with a hacker at the centre of information leaks from the Democratic National Committee (DNC) - but denied he had any involvement in it.
Roger Stone admitted to having contact with the hacker known as Guccifer 2.0 during the presidential election campaign but said that contact was "completely innocuous"
Stone, justifying his Twitter conversation with Guccifer 2.0, told the Washington Times: "It was so perfunctory, brief and banal I had forgotten it."
Stone and the hacker, whom US intelligence believe is a person linked with Russian intelligence but who claims to be a Romanian hacktivist, exchanged messages several times.
Trump's campaign adviser tweeted Guccifer 2.0 to say he was pleased his Twitter account had been reactivated. On 17 August the hacker sent Stone a message saying: "I'm pleased to say that u r great man. Please tell me if I can help u anyhow. It would be a great pleasure to me."
There were suspicions during the election campaign that Stone had knowledge of the DNC hack following a tweet he shared on 21 August that read:
John Podesta was Hillary Clinton's presidential campaign chief whose emails were hacked and published on Wikileaks a few weeks after that post.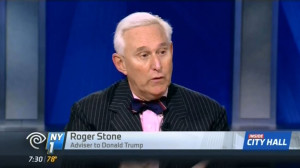 Critics suggested that Stone knew those hacks would be carried out.
Stone denied that claim. In an email to The Times he said: "I myself had no contacts or communications with the Russian state, Russian intelligence or anyone fronting for them or acting as intermediaries for them.
"Even if [Guccifer 2.0] is/was a Russian asset, my brief Aug. 14 correspondence with him on twitter comes AFTER I wrote about his role in the DNC hacks (Aug 5) and AFTER Wikileaks released the DNC material. How does one collaborate on a matter after the fact?"