WikiLeaks releases second batch of 2,086 hacked emails from Clinton campaign chairman
WikiLeaks Julian Assange has promised continuous leaks until the November election.
Whistleblowing outfit WikiLeaks has delivered on its promise to release more emails reportedly hacked from the personal email account of John Podesta, the chairman of the presidential election campaign of Democratic candidate Hillary Clinton.
The second release, which consists of 2,086 emails in total, comes less than a week after the initial release of emails, which was made up of 2,060 messages and 170 attachments. WikiLeaks claimed the first publication was only one per cent of the total collection.
"Additional publications will proceed throughout the election period," it tweeted. "WikiLeaks has a perfect decade-long record for accurate vetting. That is why no one challenges the #PodestaFiles, including the White House."
The fresh publication is quickly circulating on social media – with WikiLeaks starting to post individual highlights from the leak on Twitter. One of the key emails – marked as confidential – references a conversation that raises the possibility that Bill Clinton's "sex life" could be "damaging" to Hillary's election efforts.
"I never ask journalists about their sources. I know you would be among them," says the email, allegedly sent from former Democratic staffer and political writer Brent Budowsky to Podesta on 10 January 2016.***
It continued: "Both Clinton's would be well advised to advise the people in their orbit to shut the hell up about this. Even if I thought Bill Clinton was a liability I would never in a million years write it, or say it to the media, but I think he is a huge asset and I also think some of the people they pay do not perform a service to them."
Another email, sent from the same person in March 2016, allegedly called on Clinton to stop attacking the election campaign positions of Democrat Bernie Sanders.
"Hillary should stop attacking Bernie, especially when she says things that are untrue, which candidly she often does," Budowsky allegedly wrote. "I am one of the people with credibility to suggest Bernie people support her in November, and she [...] and others have no idea of the damage she does to herself with these attacks."
The email continued: "Right now I am petrified that Hillary is almost totally dependent on Republicans nominating Trump... she has huge endemic political weaknesses that she would be wise to rectify...even a clown like Ted Cruz would be an even money bet to beat and this scares the hell of out me."
Revelations included in the previous leak included email-based excerpts of Hillary Clinton's speeches to private banking giants like Goldman Sachs and Morgan Stanley. Another widely-reported release shed light on the Clinton's relationship with Wall Street.
"While I'm in pretty good company [...] I'm not happy about being hacked by the Russians in their quest to throw the election to Donald Trump," Podesta tweeted after the leak was disclosed to the public. "Don't have time to figure out which docs are real and which are faked."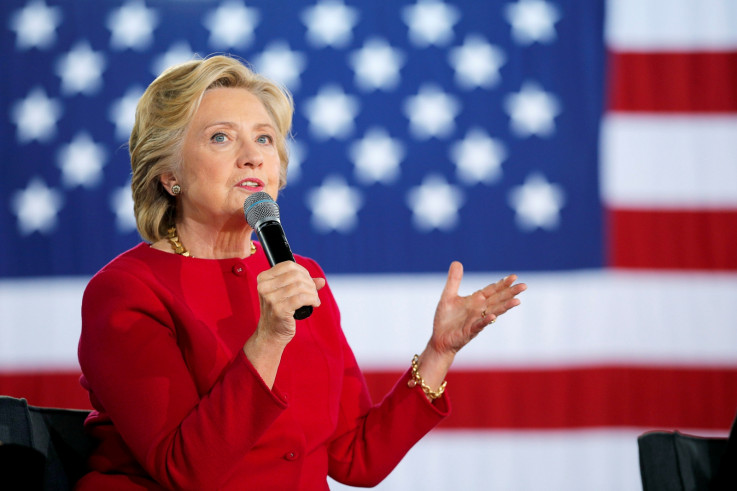 U.S. Democratic presidential nominee Hillary Clinton is featured in the leaks
REUTERS/Brian Snyder
WikiLeaks released the initial leak on the same day that the US intelligence community made the landmark decision to officially blame hackers affiliated with "Russia's senior-most officials" for numerous cyberattacks against US political groups with the aim of influencing the upcoming 8 November election.
At the second presidential debate, which saw Clinton square off against Republican rival Donald Trump, WikiLeaks was name-checked as playing a key role in the Russian campaign.
"Our intelligence community just came out and said in the last few days that the Kremlin, meaning Putin and the Russian government, are directing the attacks, the hacking of American accounts to influence our election," Clinton said when asked about the WikiLeaks' releases.
"WikiLeaks is part of that, as are other sites where the Russians hack information," she continued. "We don't even know if it's accurate information, and then they put it out."
WikiLeaks, which has been in a reinvigorated state since releasing 20,000 hacked emails from the Democratic National Committee (DNC) earlier this year, has promised to release thousands of fresh documents in the coming weeks.
"We hope to be publishing every week for the next 10 weeks, we have on schedule, all the US election-related documents to come out before November 8," said WikiLeaks' founder Julian Assange on 4 October.
Despite the denials by Assange, some experts have warned about taking the leaked information at face value. Thomas Rid, a professor in security studies at King's College London, wrote on Twitter: "The US Intelligence Community jointly & explicitly named WikiLeaks as an outlet of a Russian influence op. They did not do so lightly."
He continued: "Hacked & leaked files may – or may not – be altered or forged. Note that WikiLeaks have no way of knowing individual files are doctored or not."
WikiLeaks, for its part, has consistently claimed is has a "100% record for accuracy" when it comes to publishing sensitive information.
---
***At the time of writing, the Clinton campaign has not verified the legitimacy of the emails. IBTimes UK has contacted the Clinton campaign for comment. It is highly suspected that Russian intelligence has falisified statements and doctored documents in the past.