Trump could have been surveilled through TV says Kellyanne Conway
Trump administration doubles down on President's Obama surveillance claims as Sen. John McCain calls for evidence.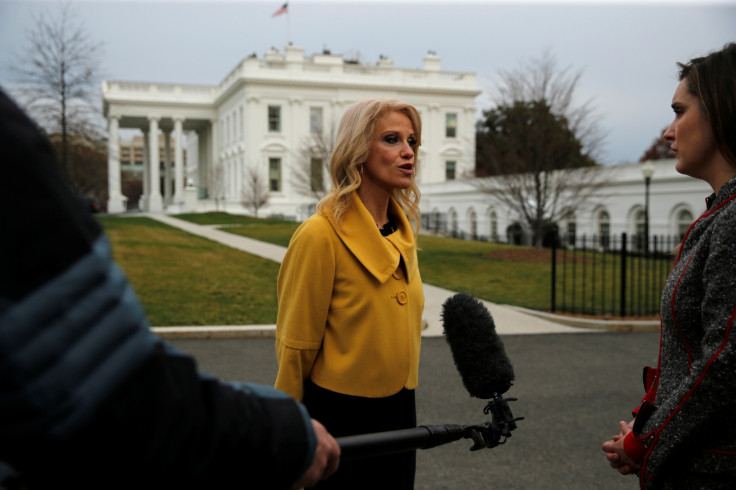 During an interview at her home on Sunday 12 March, White House senior advisor Kellyanne Conway doubled down on President Donald Trump's claims that he was surveilled by former President Obama, suggesting Trump could have been spied on through his television.
"What I can say is there are many ways to surveil each other now," Conway said during an interview with a USA Today affiliate paper in New Jersey, adding "you can surveil someone through their phones, certainly through their television sets – any number of ways. Microwaves that turn into cameras, etcetera."
Conway's comments appear to follow from revelations made by Wikileaks on 7 March in which a leak of Central Intelligence Agency hacking tools showed the government's capability to hack into, and collect information from, cell phones and some modern television sets.
On Saturday 4 March President Trump accused his predecessor, President Barack Obama, of "wiretapping" Trump Tower during the 2016 election. As Counselor to the President, Conway has vigorously defended his claims, despite failing to back them up with any evidence.
Several current and former government intelligence agency officials have denied Trump Tower or the president were wiretapped when he was a candidate or during the transition.
Trump's claims originated from an article on the right-wing online news site Breitbart that compiled a list of news reports from outlets like the New York Times, the BBC, and Reuters. These articles detail how several ongoing investigations into Russia's influence on the 2016 election conducted by the FBI, CIA, Justice Department, and others are reviewing evidence that Trump campaign officials had contact with Russian government officials.
From her home in Alpine, New Jersey, where Conway has a home with her husband and four daughters, she called the ongoing investigations a "waste of people's oxygen and air and resources, and time, when we could be helping people who are hungry, who need healthcare." As Trump's campaign manager, she said: "I talked to people in Macomb County Michigan, not in Moscow."
Yet some Republicans are calling for Trump to provide evidence that he was being watched by Obama. "President Trump has to provide the American people ... evidence that his predecessor ... was guilty of breaking the law," Sen. John McCain (R-AZ) told CNN's State of the Union on Sunday.
"I think the president has one of two choices," McCain said, "either retract or to provide the information that the American people deserve, because, if his predecessor violated the law, President Obama violated the law, we have got a serious issue here, to say the least."
After Trump's accusation, the House and Senate intelligence committees promised to include investigations of his claims in ongoing probes of Russian influence on the election.
Conway clarified her comments early Monday in an interview with ABC's George Stephanopoulos, stating: "Of course I don't have any evidence for those allegations."
"I have no evidence, but that's why there's an investigation in Congress," Conway said, "that's what investigations are for."
© Copyright IBTimes 2023. All rights reserved.