Republican Senator Tom Cotton fielded questions from angry Arkansans upset about his party's approach to repealing and replacing Obama's healthcare law and other issues at a town hall on Wednesday 22 February.
Cotton's raucous meeting with constituents is just the latest in a string of confrontations between GOP lawmakers and the people they represent. Many who spoke at Cotton's packed town hall also fought against claims from the White House and US President Donald Trump that they are professional protestors.
"I have sent you one message after the other about our family sir, and do you know where we live? I don't live three hours from here, I don't live two hours from here, I live just down the road a few places from your office," a woman who introduced herself as a member of the Better Medicare Alliance told Cotton.
She claimed her dying husband only gets $29 a month for his heart condition, despite requiring complex care. She invited Cotton to her home and asked how his proposals will deliver better care.
Republicans have been returning to their states this week to advocate their party's policies, and those of the Trump administration, in a series of town halls. They have met strong opposition.
On Tuesday 21 February Senate Majority Leader Mitch McConnell (R-Kentucky) was chided for Republican plans to replace the Affordable Care Act (aka Obamacare) at a town hall in Lawrenceberg, Kentucky. Republicans have not yet laid out a plan for how they intend to replace Obamacare, which expanded coverage to many Americans and blocked health insurance companies from denying coverage to people with pre-existing conditions.
LA Senator Bill Cassidy, David Brat (Virginia) and Charles Grassley and Joni Ernst (both Iowa) and others have each seen packed town halls filled with protesters and Americans worried about the impact of the Trump administration's policies.
When Cotton at first chose not to answer a question about coverage gaps after the proposed repeal, the crowd erupted in chants of "do your job!" The town hall was originally scheduled at a 400 person venue but needed to upgrade to 2,200-person venue due to demand.
President Trump has dismissed these people. "The so-called angry crowds in home districts of some Republicans are actually, in numerous cases, planned out by liberal activists," Trump said on Twitter on Tuesday.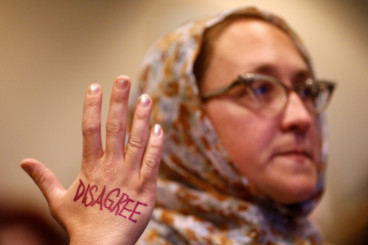 "But there is a bit of professional protestor, manufactured base in there," said White House press secretary Sean Spicer when asked on Wednesday 22 February about the opposition GOP lawmakers are facing. "Just because they're loud doesn't necessarily mean that there are many," he added. "When you look at some of these districts and some of these things, that it is not a representation of a member's district or – it is a loud group, small group of people disrupting something, in many cases, for media attention."
Many of those at Cotton's town hall opened their questions by saying "I am not a paid protester," in response to President Trump's tweet and the White House.
"Donald Trump makes Mexicans not important to people who are in Arkansas who like Mexicans, like me, my grandma," said seven-year-old Toby Smith, who took the mic during Cotton's town hall. Trump "is deleting all the parks and PBS Kids just to make a wall ... and he shouldn't do that," said Smith, voicing other concerns about the Trump administration's reported intent to cut funding for the National Park Service and public television.