Trump holds Maduro responsible for safety of 2 seized Venezuelan opposition leaders
Leopoldo Lopez and Antonio Ledezma, who had been under house arrest, were taken to Ramo Verde military prison.
US President Donald Trump has issued a warning to Venezuelan President Nicolas Maduro holding him responsible for the safety of two seized opposition leaders.
Trump has denounced Maduro's regime as a "dictatorship" and called for the immediate release of Leopoldo Lopez and Antonio Ledezma. The two, who were under house arrest, were taken to a military prison on Tuesday (1 August).
"The United States holds Maduro - who publicly announced just hours earlier that he would move against his political opposition - personally responsible for the health and safety of Mr Lopez, Mr Ledezma and any others seized," Trump said in a statement.
"This action is further evidence of the Maduro regime's authoritarianism," Trump added, speaking a day after US Treasury Secretary Steven Mnuchin slapped sanctions on Maduro in response to the controversial election that took place in the South American country on Sunday.
As per the sanctions, any of Maduro's assets that fall under US jurisdiction will be frozen, and it will be illegal for Americans to have any business dealings with him.
Earlier, US Secretary of State Rex Tillerson called the re-arrest of the opposition leaders "very alarming".
"The situation from a humanitarian standpoint is already becoming dire. We are evaluating all of our policy options as to what can we do to create a change of conditions, where either Maduro decides he doesn't have a future and wants to leave of his own accord, or we can return the government processes back to their constitution," Tillerson said.
Lopez and Ledezma were arrested on Tuesday, two days after Venezuela witnessed the controversial vote for a new constituent assembly. Maduro has said that only a new constitution could help quell the protests as well as pull Venezuela out of its economic and political crisis.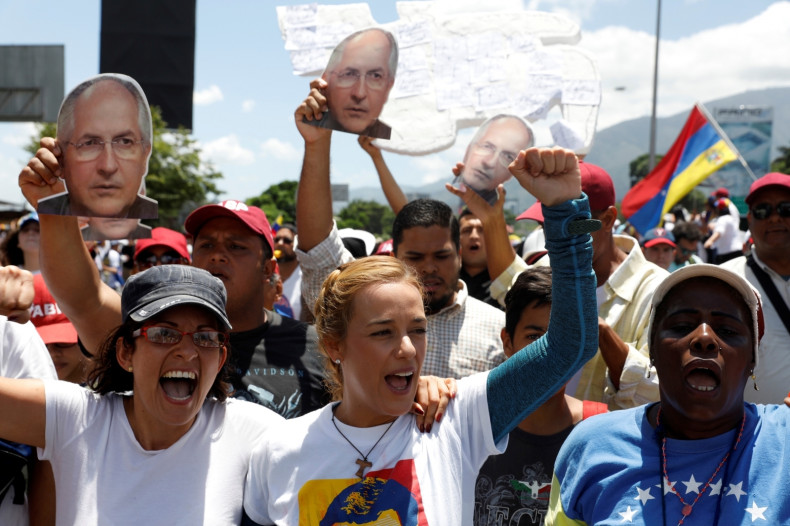 The opposition believes that it is a "coup" by the government, which would bring an end to the country's democracy. The US government has also called the national vote a "sham".
Lopez's wife Lilian Tintori confirmed his arrest on Twitter. She said the opposition leader was taken from his home at 12.27 local time (04.27GMT) on Tuesday. A video posted on the social media site showed him being taken away by members of the Venezuelan intelligence service, Sebin.
Ledezma was also taken by the intelligence service, his daughter Vanessa Ledezma said.
In a video posted on Twitter, a woman can be heard saying: "They're taking Ledezma; they're taking Ledezma, dictatorship!" It is said that the two opposition leaders were taken to Ramo Verde military prison.
The country's Supreme Court – which critics say is dominated by government loyalists – has also supported the arrest and said it had received intelligence reports alleging the two were trying to flee.
The apex court added that it had revoked Ledezma's and Lopez's house arrest because they had dishonoured the provisions of their house arrest by making political statements.