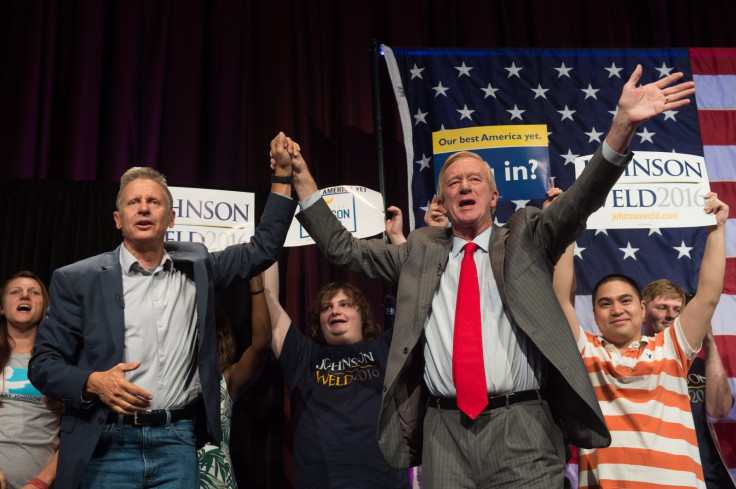 The race for votes among active-duty US troops is a dead heat between Republican nominee Donald Trump and Libertarian Party nominee Gary Johnson, a new poll has revealed. The other major party candidate, Democratic nominee Hillary Clinton, follows not so closely behind in third place.
The survey - conducted by the Military Times and Syracuse University's Institute for Veterans and Military Families - found Trump has the support of 37.6% of active-duty troops, while Johnson holds 36.5%. Clinton follows with 16.3% and Green Party nominee Jill Stein nabs a mere 1.2%.
Other third-party and write-in candidates received 3.2% and around 5% said they did not plan to vote, The Hill reported.
According to the Military Times, there is a "sharp split" between the military's officer corps and enlisted personnel. Among the officers surveyed, Johnson leads with 38.6%, followed by Clinton with 28% and finally Trump with 26%. Johnson continues to command strong support among enlisted personnel, but drops to second with 36.1%. Trump leads among the enlisted with 39.8% and Clinton comes in third with 14.1%.
The Navy appears to support Johnson the most, with a whopping 42.3%, while Trump gets his biggest support from the Marine Corps. Clinton also enjoys the most support from the Navy with 21.2%.
An Army captain who withheld his name and said he was supporting Johnson told the Military Times: "These are the worst two [major party] candidates we could possibly have. We deserve better as the American people and should expect better."
Trump's pitch to Black voters
Meanwhile, Trump has turned his attention to Black voters and has enlisted controversial boxing promoter Don King. In an appearance at an Ohio church with the GOP nominee on Wednesday (21 September), King urged Black voters to support Trump in November.
"The system is the problem, and he's the only gladiator who will take on the system," King said, adding: "We need Donald Trump, especially Black people." The Telegraph noted King also managed to stir up controversy during his introduction by using a racial epithet.
"I told Michael Jackson, 'if you're poor, you're a poor negro'. I would use the n-word. But, 'if you're rich, you're a rich negro...If you're a dancing and sliding and gliding n***r, I mean negro! You're a dancing and sliding and gliding negro," he said as he recalled a conversation he had with the singer about the lives of Black people in the US.
King's pitch to African-American voters comes on the heels of President Barack Obama urging Black voters to support Clinton. Obama told the Congressional Black Caucus Foundation he would consider it a personal insult if Black voters did not come out to support the Democratic nominee.