President Donald Trump pledged the US would "win" the ongoing opioid epidemic during a briefing at his golf club in Bedminster, New Jersey. Despite the recommendation of the presidential opioid commission, the president did not declare a national emergency.
The president vowed to "protect innocent citizens from drug dealers that poison our communities," according to NBC News.
"The best way to prevent drug addiction and overdose is to prevent people from abusing drugs in the first place," Trump said.
"If they don't start, they won't have a problem," he said, according to The Washington Post. "If they do start, it's awfully tough to get off. So if we can keep them from going on and maybe by talking to youth and telling them: 'No good, really bad for you in every way.' But if they don't start, it will never be a problem."
Despite promising a "major briefing" in a Tweet on Tuesday (8 August), the president announced no new policies in the fight against opioids. According to the Post, a White House spokesman described the briefing as "an update on the opioid crisis" and said the president was still reviewing a preliminary report from his hand-picked commission.
The presidential opioid commission, which is chaired by New Jersey Governor Chris Christie, recommended Trump "declare a national emergency" and claimed "America is enduring a death toll equal to September 11th every three weeks".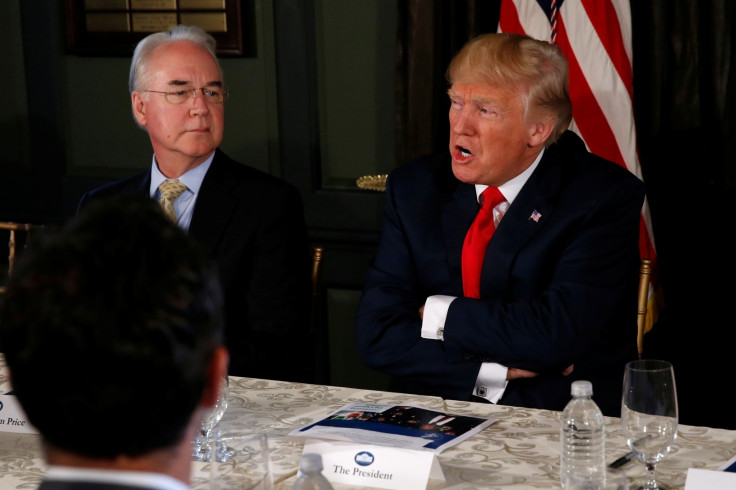 NBC News reported the commission recommended expanding treatment facilities across the US, equipping police officers with the anti-overdose remedy Naloxone, and educating and equipping doctors on the proper way to prescribe pain medication.
While the president did not address the commission's recommendations, he reiterated his promise to be "very, very strong on our southern border".
Following the briefing, Health and Human Services Secretary Tom Price said he believes there are resources to address the crisis without declaring a national emergency. By declaring a national emergency, the administration would be able to remove barriers and waive federal rules, including restricting where Medicaid recipients can receive addiction treatment.
However, he noted that, "all things are on the table".
According to the Centers for Disease Control and Prevention, more than 33,000 people across the US died of opioid overdoses in 2015. The US government reported Tuesday that deaths from drug overdoses rose sharply in the first nine months of 2016.