A man whose protest sparked a frenzied incident at a Donald Trump rally in Nevada which saw the presidential hopeful bundled off stage by Secret Service agents has claimed he was targeted and attacked by supporters for holding a "Republicans against Trump" placard.
Austyn Crites, 33, from Reno, spoke out after being released and said he feared for his life after the crowd turned on him and tackled him to the ground. Crites, who said he has been a registered Republican for roughly six years, claimed he was kicked, punched and choked.
"I had a sign that said 'Republicans against Trump'. It is a sign that you can just print off online," he told The Guardian, adding: "All of a sudden people next to me are starting to get violent; they're grabbing at my arm, trying to rip the sign out of my hand."
As previously reported, the scenes at the Trump rally prompted shouts from the crowd that someone was brandishing a gun.
As federal law enforcement bundled the presidential candidate off the stage, hundreds of people fled to the back of the auditorium in panic.
Crites claimed that "it looked like" Trump was pointing at him and that he may have been "instigating something".
"There were people wrenching on my neck they could have strangled me to death," Crites said.
The anti-Trump protestor told The Guardian how he felt that supporters of the controversial candidate were well-meaning but misguided. He branded Trump as a "fascist" and a "dictator" but said he didn't blame his attackers. "I'm blaming Donald Trump's hate rhetoric," he said.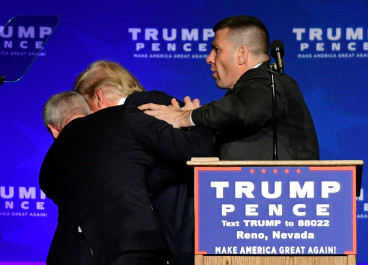 Crites addressed journalists outside the venue after the incident occurred, saying: "I'm a Republican and have been supporting Republican candidates for quite some time. But I just don't support Donald Trump. I've been fairly vocal during the primary process as well as now.
"You know I agree with them on many, many different issues but I just believe that, you know, he's very dangerous for the country. And so I just came with a sign, I literally just had one sign that said 'Republicans against Trump'."
The US Secret Service, which is currently responsible for guarding both political figures as the election date approaches, said: "Agents and Reno police officers immediately apprehended the subject. Upon a thorough search of the subject and the surrounding area, no weapon was found."
When Trump returned to the stage, he said: "Nobody said it was going to be easy for us, I want to thank the Secret Service. These guys are fantastic. They don't get enough credit. They don't get enough credit. They are amazing people."
Afterwards, Donald Trump Jr and his social media manager Dan Scavino Jr both retweeted an unsubstantiated claim by a former political operative Jack Posobiec that the incident was an assassination attempt.