President Donald Trump last night (22 March) retweeted a conspiracy theory website and a right-wing pundit to support his insistence he was wiretapped by President Barack Obama — a claim dismissed by the FBI.
"Trump always ends up being right. It's almost a little freaky," wrote Bill Mitchell, host of the right-wing YourVoice Radio, in a tweet that was promoted by Trump.
Mitchell was referencing Trump's claims on 4 March that "Obama had my 'wires tapped' in Trump Tower just before the victory." The claim has been roundly dismissed by the American intelligence community.
This Monday, FBI director James Comey gave testimony to the House Intelligence Committee that he and the Department of Justice "have no information that supports" Trump's claim he was wiretapped by Obama.
On Wednesday, however, House Intelligence Committee Chairman Representative Devin Nunes (R-CA) took the unusual step of holding a press conference to acknowledge that he had seen intelligence reports that show "there was incidental" surveillance of "the president-elect and his team". Nunes said that all incidental surveillance he had seen was done so legally.
Nunes is currently leading an investigation of Russian interference in the 2016 US election. It has so far revealed that members of the Trump campaign are being investigated by the FBI for their ties to Russian government officials and intelligence officers.
"The information that I have seen has nothing to do with Russia or the Russian investigation," Nunes said of the incidental communications intercepts he discovered.
"The administration, I don't think is aware of this, so I'm going to make sure and go over there and tell them what I know," he said, before heading to the White House to speak about his committee's investigation. After meeting the president, Nunes said that he could not rule out members of the Obama administration had been involved in the surveillance.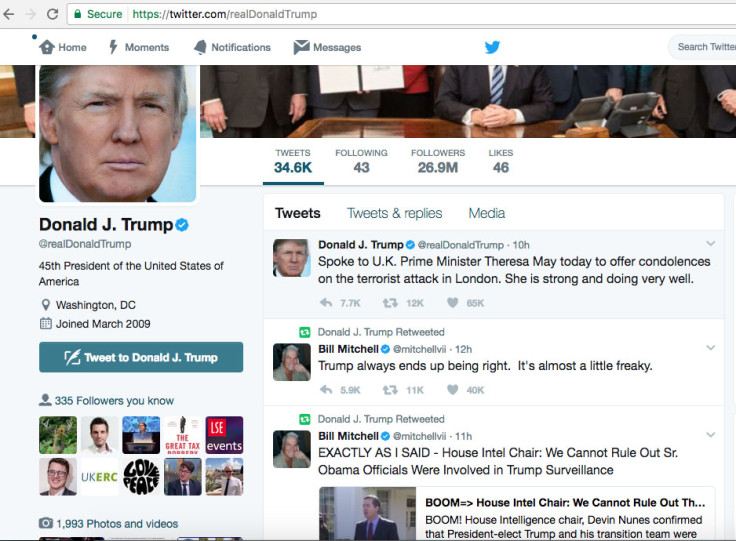 Following Nunes' visit to the White House, Trump said that he felt "somewhat" vindicated "that they found what they found".
Late yesterday, Trump retweeted an article by the conspiracy theory website GatewayPundit bearing the headline "BOOM=> House Intel Chair: We Cannot Rule Out That Sr. Obama Officials Were Involved in Trump Surveillance." In the past the site has promoted the Birther conspiracy that President Obama was born in Kenya, among others.
"I think it's gravely concerning," said Representative Adam Schiff (D-CA) the ranking member on the House Intelligence Committee, "that the chairman [Nunes] would receive information that is pertinent to the scope of our investigation and instead of sharing that information with the committee, would share that information with the White House."
Republican stalwart John McCain (R-AZ) called the back and forth exchange "bizarre" during an interview on MSNBC on Wednesday. He insisted that now more than ever a congressional select committee or independent commission is needed to continue the investigation impartially.
"No longer does the Congress have credibility to handle this alone, and I don't say that lightly," said McCain, who chairs the Senate Armed Services Committee.
Currently the FBI, CIA, NSA, Justice Department, Treasury Department, Director of National Intelligence, and the Senate and House Intelligence Committees are all carrying out investigations into Russia's influence on the American election.