Donald Trump hits out against 'crooked media' amid reports of crumbling campaign
Trump says he's not running against 'crooked Hillary,' but the 'crooked media.'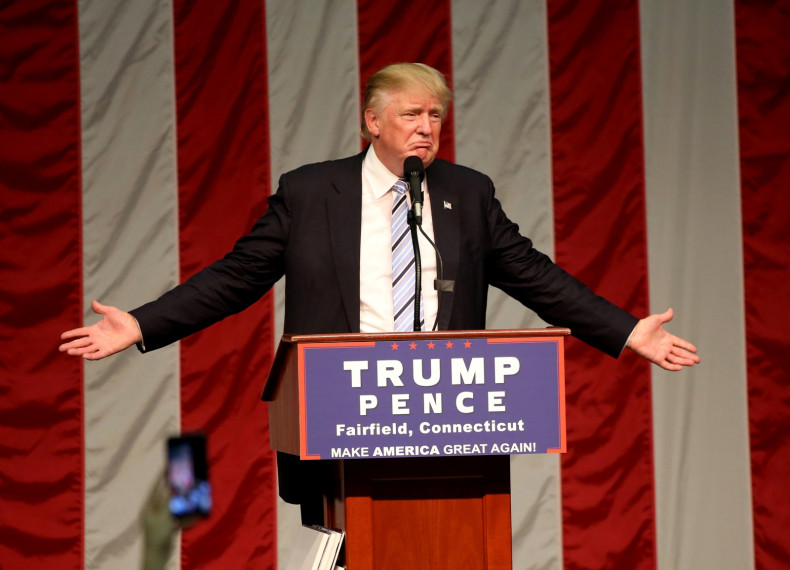 Republican presidential nominee Donald Trump has chosen his next target: the media. The New York real estate mogul made his displeasure towards the media known during a campaign stop in Fairfield, Connecticut on 13 August before turning to Twitter to lecture reporters about freedom of the press.
During the weekend campaign rally, Trump told supporters he was fighting against journalists instead of Democratic rival Hillary Clinton.
"I'm not running against Crooked Hillary," he told rally attendees, according to The Guardian. "I'm running against the crooked media."
Trump is upset with a New York Times article in which unnamed associates are quoted as saying that "his mood if often sullen and erratic" in private. The NY Times reported that two months after campaign manager Corey Lewandowski was fired, "the effort to save Mr Trump from himself has plainly failed."
On Twitter, Trump made pointed attacks against the "failing" New York Times. He claimed: "The failing @nytimes talks about anonymous sources and meetings that never happened. Their reporting is fiction. The media protects Hillary!" He also denied the Times' claim that he had agreed to change his campaign strategy.
This is hardly the first time Trump has railed against the media's coverage of his campaign, which has taken press credentials from several publications, including The Washington Post, Politico and Buzzfeed.
"If the disgusting and corrupt media covered me honestly and didn't put false meaning into the words I say, I would be beating Hillary by 20%," he tweeted. Trump also claimed the media has failed to properly cover his rallies or discuss "the real message" of his campaign.
On Sunday (14 August), Trump continued his assault on the press, insisting that it is protecting Clinton. He even went as far as explaining what freedom of the press truly meant. "It is not 'freedom of the press' when newspapers and others are allowed to say and write whatever they want even it it is completely false," he tweeted.
Trump's continued frustrations with the media – among others – have done little to help his poll numbers. A new CBS News/YouGov poll shows Clinton ahead of Trump in the key states of Florida and New Hampshire by five and nine points respectively.
A 12 August general election poll by the LA Times/USC has the Democratic nominee up by a single point, though earlier polls have her up by much more.