People who back presumptive Republican nominee Donald Trump in the 2016 US presidential elections are more likely to have a negative outlook for African Americans than those who support Democrat candidates, a recent poll showed. The survey reportedly found that almost 40 to 50% of Republic supporters polled expressed deep concerns about blacks in terms of certain personality traits.
A Reuters/Ipsos opinion poll conducted between March and June, questioned 16,000 Americans who supported Trump, his close rival Hillary Clinton, US Senator Bernie Sanders, Senator Ted Cruz or Ohio Governor John Kasich. Although both Democrat and Republican supporters in the survey viewed blacks more negatively than whites, the latter were more critical, the poll found.
About half of Trump's supporters said in response to questions asked in the survey that African Americans are more "violent" and more "criminal" than whites, while 40% described them as being lazier than whites. On the other hand, nearly one-third of Clinton supporters surveyed viewed blacks as more "violent" and "criminal" than whites, and a quarter of them described them as lazier than whites. The poll also found that a significant number of Americans in both the political parties felt that affirmative action policies discriminate against whites. They are also anxious about living in diverse neighbourhoods.
Only about 36% of Trump supporters said they prefer to live in a community with diverse cultures, while 70% of Clinton supporters preferred such diverse neighbourhoods. The figures for Cruz supporters and Kasich supporters were 46% and 55% respectively.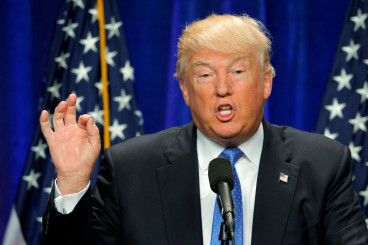 Commenting on the poll findings, Stephen Miller, Trump's senior policy adviser, told Reuters that Trump is an "egalitarian" who believes in "supporting and protecting" everyone equally, which is not the case with Clinton. "This is a stark contrast to Hillary Clinton, whose policies have been a disaster for African-American and Hispanic citizens," Miller added.
A spokesman for Hillary Clinton, however, declined to comment on the poll findings. Clinton is reportedly relying heavily on black voters in the presidential race.
Michael Traugott, a polling expert and professor emeritus at the University of Michigan, said that the views expressed by Trump supporters on affirmative action and neighbourhood diversity do not necessarily reflect racial bias, but could also be indicative of economic insecurity and social standing.