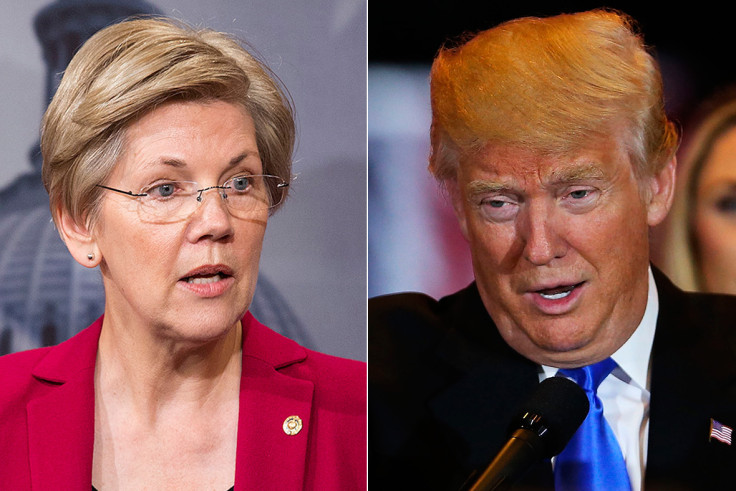 Republican presumptive presidential nominee Donald Trump has hit back at Massachusetts senator Elizabeth Warren after she used her appearance at a Hillary Clinton rally to slam the GOP candidate on Monday (27 June 2016).
Warren told crowds in Cincinnati, Ohio that Trump was a "thin-skinned bully driven by insecurity and hate", and he has since responded with claims that she was "very racist" and had "made up her heritage".
He told NBC news correspondent Hallie Jackson: "We call her Pocahontas for a reason. She said she's 5% Native American. She was unable to prove it.
"She used the fact that she was Native American to advance her career. Elizabeth Warren is a total fraud. I know it. Other people who work with her know it. Elizabeth Warren is a total fraud."
Trump added;" She made up her heritage, which I think is racist. I think she's a racist, actually, because what she did was very racist."
The GOP candidate has repeatedly criticised the Massachusetts senator, calling her "goofy", referring to her as "Pocahontas" and questioning her Native American heritage – Warren's great-great-great-grandmother, Sarah Smith, is Cherokee and Warren has stated her heritage has been part of her life since she was a child.
However, Trump has persistently questioned Warren's heritage – drawing parallels to his prolonged demands to see US president Barack Obama's birth certificate.
He said in a previous interview with the New York Times: "She's got about as much Indian blood as I have. Her whole life was based on a fraud. She got into Harvard and all that because she said she was a minority."
The pair stepped up their exchange of insults after Warren was rumoured to be on Democrat frontrunner Hillary Clinton's shortlist for VP.