Trump vows that travel ban will continue, as Middle East airlines restart flights to US
Egyptian and United Arab Emirates airlines are now allowing direct travel between banned countries and the US.
US President Donald Trump has ridiculed a ruling by a federal judge that revoked a ban on travel to the US from seven Muslim-majority countries.
In a series of tweets sent out on Saturday (4 February), Trump declared the ban had the support of countries in the Middle East, and dismissed the ruling by a "so-called judge".
The tweet storm, sent out at approximately 8am Florida time (1pm GMT), came about four hours after US District Judge James L. Robart issued a nationwide injunction, ordering US law enforcements to stop detaining and deporting people arriving in the US from the banned countries.
"When a country is no longer able to say who can, and who cannot, come in & out, especially for reasons of safety & security – big trouble!" Trump's Twitter tirade began.
"Interesting that certain Middle-Eastern countries agree with the ban," the newly elected politician continued. "They know if certain people are allowed in it's death & destruction!
"The opinion of this so-called judge, which essentially takes law-enforcement away from our country, is ridiculous and will be overturned!"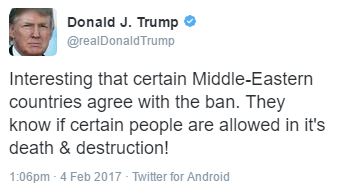 After dismissing Judge Robart, who was appointed a federal judge by the US Senate in 2004 after being nominated by President George W Bush, Trump went on to criticise the New York Times – continuing a feud with the so-called "mainstream media" in the US, over its critical reporting of his campaign and presidency.
"After being forced to apologize for its bad and inaccurate coverage of me after winning the election, the FAKE NEWS @nytimes is still lost!"
While the injunction is temporary, as the Trump administration has appealed the ruling, it is expected that the reversal will be difficult.
The ruling means that US officials must grant visas for people travelling to the US from the seven countries identified in the ban: Iraq, Syria, Iran, Libya, Somalia, Sudan and Yemen.
Reaction from the Middle East's travel industry has been mixed.
AP has reported that airlines have instructed travel agencies in Iran to not sell tickets to travellers to the US, while a representative for the US embassy in Baghdad, Iran, said it does know "don't know what the effect will be, but we're working to get more information".
Egypt has released guidance saying travelling to the US will be permitted, while Etihad Airlines – the national airline of the United Arab Emirates – has said it will accept travellers from the banned countries heading to the US.