An Iranian baby girl, who was barred from travelling to the US under President Donald Trump's executive order, has now been granted permission to enter the country for an emergency medical treatment.
Four-month-old Fatemeh, who is reportedly suffering from a complicated heart condition, was one of those affected by POTUS's 90-day ban on travelers from seven Muslim-majority countries. The girl's parents were scheduled to meet doctors in Portland on 5 February but they were prevented from entering the US from Tehran, according to CNN.
"This evening we were pleased to learn that the federal government has now granted Fatemeh Reshad and her family boarding documents to come to the United States," New York governor Andrew Cuomo announced late on Friday (3 February).
Several congressional Democrats reportedly submitted a formal request to the Secretary of State Rex Tillerson to grant a waiver for the infant and her parents to travel to the US. They argued that granting the waiver would be "moral and humanitarian" as well as send a signal to Iran that "even in the face of highly strained diplomatic relations, the United States offers help to those suffering tragic circumstances."
"We will continue to work with the International Refugee Assistance Project and their partners to ensure this baby receives the treatment she needs, and fight for those being unfairly shut out of America's gates by this policy," Cuomo added.
The authorisation comes as a federal judge in Seattle imposed a temporary nationwide halt on Trump's travel ban.
Reports suggest that Fatemeh's heart has structural abnormalities. She requires quick surgery, and since Iran's medical facilities posed a doubt whether the infant could be successfully treated, her parents considered travelling to the US, an attorney for the family said.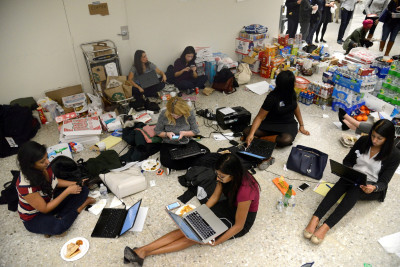 The family boarded a flight to Dubai last week but they were rerouted back to Tehran due to the travel ban. They were reportedly told to reapply for a visa after three month, when Trump's executive order expires.
Fatemeh's uncle, Samad Teghizadeh is thought to be a US citizen, living in Portland.
The family is hoping a doctor will perform the surgeries pro-bono.