Trump wants price of 30-foot-high concrete Mexican border wall in by May
Companies across US hurrying to get their proposals in by deadline, but many believe wall will be mostly fence.
The Trump administration wants firms to have the price and designs in for a 30-foot-tall concrete barrier it plans to build on the border with Mexico by early May.
Companies across the US are already hurrying to put together proposals to build it. "We're starting to work with contractors to cost out their projects and these structures," Bill Sandbrook, the CEO of US Concrete, one of the leading concrete producers in the US, told IBTimes UK.
"The original designs and prototypes are due back to the government on March 20th," Sandbrook said, noting that pricing for the designs needs to be delivered by 3 May. "A lot [of companies] are looking right now and kicking tires. How many of them develop into bids is yet to be seen," he said.
A government request for wall designs sent out Thursday 9 March by the Department of Homeland Security cites aesthetics, anti-climbing, and resistance to tampering or damage are key to successful proposals.
The intent of the competition is "to acquire and evaluate available wall prototypes and provide some initial construction of some wall segments," the request said. It's not meant to be a "total wall solution" but a chance for the Trump administration to see what its options are.
Construction of the entire border wall could cost as much as $21.6bn (£17.3bn) and take more than three years to build Reuters revealed in early February, citing a Department of Homeland Security evaluation. The estimate is nearly double the $12bn cost Trump promised during his campaign. At one point he said the wall would be 35 to 40 feet high, and even suggested it could be as much as 65-feet-high.
Right now roughly 1,129 km of barriers and fence already exist on the border to stop illegal crossings. Currently 65% of the border has no fencing.
Yet it's still too early to tell how much the wall will cost, Sandbrook said "because the designs haven't been completed" and it's yet to be determined how much concrete will be in a wall panel. "There's a big difference between a one foot panel and a two foot panel. Just by layman's terms, a two foot panel would be twice as expensive as a one-foot panel," Sandbrook added.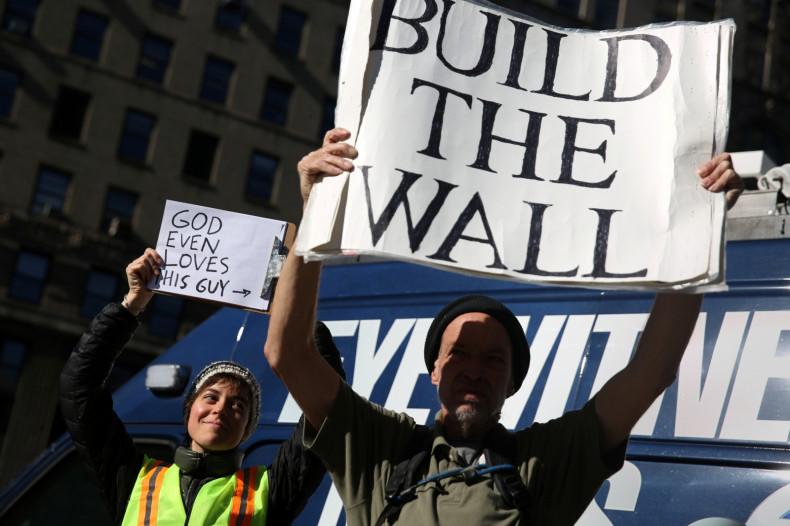 There has been great debate over who will actually pay for the wall too, with President Trump insisting throughout his campaign and early presidency that Mexico will pay for it through some form of tax on imported goods. Mexican officials have insisted that they will not pay. When US Senate Majority Leader Mitch McConnell was asked on Thursday 9 March if Mexico would pay for the wall, his answer was simply: "uh, no," followed by laughter.
Companies like US Concrete, however, are excited about the opportunities that such a large building project will bring. The Mexican cement company Cemex, which has large operations in US is also looking at supplying the contractors who will build the wall.
Sandbrook is touting US Concrete as the company to provide a lot of the concrete panels because it is the largest producer of volumetric concrete, which is mixed on site rather than in traditional cement trucks, making it easier to supply remote locations.
The final structure, though, probably won't be entirely made of concrete. "It's not necessarily feasible that this is going to be one monolithic structure of 30-foot high wall panels from the Gulf of Mexico to the Pacific Ocean," Sandbrook said, because some areas along the border are so rugged.
"I think in remote mountainous areas, where the Rio Grande is and other similar areas, there's going to be steel fencing used. There's going to be a lot of electronic monitoring used," he said.
Dennis Slater, president of the US Association of Equipment Manufacturers, whose members build construction equipment, said they're expecting something similar.
"I think in the end, I don't know if it's going to be a grand plan for a wall," he said, "but we think its going to be something that makes it more tougher to get into the United States."