As soon as he takes office President-elect Donald Trump will cosy up to Vladimir Putin and within a month get his generals to draw up a plan to defeat the Islamic State.
Trump's policies will be "night and day" compared to those of President Barack Obama, according to a senior member of the president-elect's foreign policy team who spoke with The Sunday Times on 18 December.
The official promised that Trump's administration would start off with "high-profile military actions" against Islamic extremists in the Middle East to announce there is "new sheriff in town."
When it comes to Russian President Vladimir Putin, they insist, Trump will offer "prestige – centre stage at the summit, the one-on-one meeting, the hand on the back from Trump."
Trump, they said, "is the master of the photo op and he will use that skill" to give "the US tremendous leverage." Bottom line, they said: Trump will mark a "new era of American leadership."
From inside the White House National Security Council (NSC) – the top government forum for national security and foreign policy issues – the view is different.
On Sunday 18 December current and former NSC officials told The Guardian that the "landing team" that Trump has sent to smooth the transition between the old and new administrations are focused on how the office works, not on being briefed on where things stand with national security.
On top of that, career civil servants are lining up to leave the council. "Career people are looking to get out and go back to their agencies and pressure is being put on them to get them to stay," an official said. "There is concern there will be a half-empty NSC by the time the new administration arrives, which no one wants."
Vice-President Joe Biden's former deputy national security adviser Julianne Smith told The Guardian that civil servants she spoke to at the Department of Defence, State, and White House have said there's been " little or no interaction" with the landing teams to date. "There are very important substantive hand-offs that need to be occurring, that are in fact not happening," she said.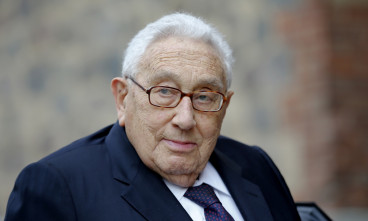 One high-profile former Secretary of State and National Security Adviser, Henry Kissinger, however, is welcoming the change in tone from Trump. "I think we should give [Trump] an opportunity to develop the positive objectives that he may have," said Henry Kissinger in an interview after he met with and advised the president-elect in mid-November.
On CBS's Face the Nation on Sunday 18 December Kissinger said that Trump's challenge is to take his instincts from the 2016 campaign and apply that "same skill to the international situation."
Russia considers Trump "volatile and upredictable," said Thomas Graham, an employee at Kissinger's consulting firm Friday 16 December in London. He urged the US to engage Russia, but admitted that's hard to do when the country hacks into American political parties.
In early December President Barack Obama launched an inquiry into Russian intelligence-linked hacking during the election. This came after the CIA and FBI claimed they have evidence that Putin sought to influence the election's outcome.

Yet the US "really don't have any option other than to engage" Russia, Graham said. "The effort to isolate Russia hasn't played out the way we wanted it to."
Sanctions imposed on Russia's top officials and companies following its annexation of the Crimean region of Ukraine in 2014, along with a drop in oil prices, saw its GDP contract 3.7% in 2015, with a further 0.7% contraction expected in 2016.
"The agenda with the west is Syria, it's Ukraine," said Graham. "Those are the things the Russians want to talk about" he said. Yet he warned about Trump having an early meeting with Putin too soon after his inauguration.
"I would be concerned about Trump having an early meeting," he said. "If the goal was to deal with Russia from a position of strength, it's with the support of our European partners. I would hope that a first meeting with Putin wouldn't take place until the fall of next year."
Time for preparation, he said, would give Trump, "some clear sense of what the goals are and how we want to manage this relationship."