A New York diner has fired a waitress after she wrote a racist slur on an Asian customer's receipt.
An Asian mother was finishing her meal at the Cornerstone Cafe on Avenue B in Manhattan's East Village and asked for her bill from her waitress.
But when it came she saw that the employee had referred to her on the receipt as 'Ching Chong', a derogatory term for Asians.
Ziggy Chau, a friend of the woman, posted a picture of the bill on Facebook and wrote: "This just happened to my friend's mother...right here in NYC!!"
"Please boycott this place Cornerstone Cafe NYC until they publicly apologise.
"Hate to get political but in light of what is happening here in the USA and our current President [Donald Trump] seems to make it ok to come out and be blatantly racist."
The photo has since gone viral and has led to hundreds of responses for and against the well-know local diner.
Yesterday the restaurant's manager, who identified himself only as Rocco, sought to quell the online storm.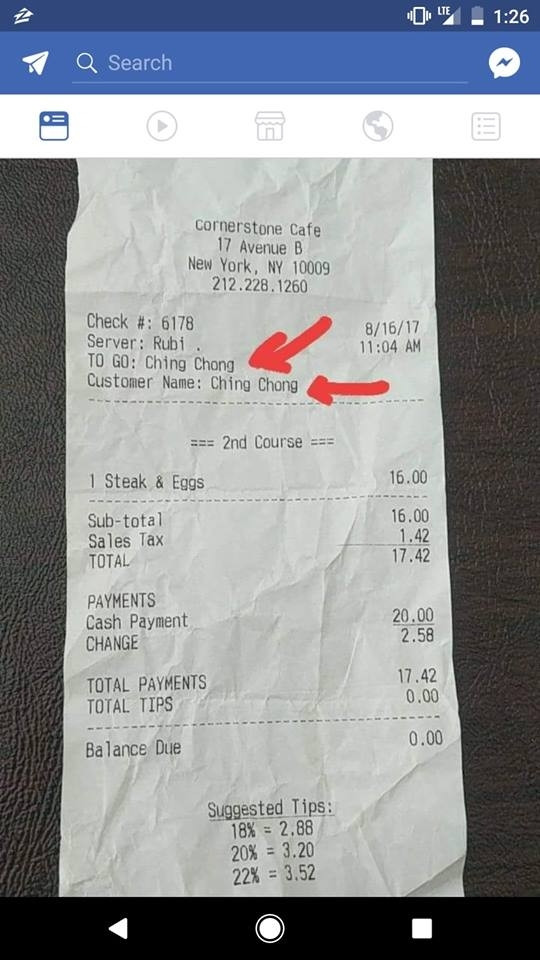 He apologised and wrote on Cornerstone's Facebook page that he had fired the offending waitress.
He said he asked the unnamed waitress why she wrote what she had on the receipt. Her reply was that as she didn't know the name of the customer, and so just punched in something in the payment system to remind her of the lady.
The restaurant manager wrote: "This situation leaves me no choice than to terminate this employee for this unjustified act.
"This act is not acceptable and I thank you for bringing it to my attention. This behaviour will not be tolerated."
But even after the restaurant's apology, a number of social media users continued to call for a boycott.
However, Chau wrote: "Everyone, let's be civilized now. There are many people that are employed by the restaurant whose livelihoods depend on their jobs there and should not suffer because ONE IGNORANT employee thought it was ok to make a racist remark."
Last month an Airbnb host who made a racist comment to an Asian guest was fined $5,000 - and told she must attend a course on Asian-American studies.
Tami Barker cancelled Dyne Suh's booking for accommodation near a ski resort in Big Bear in California, telling her in a message: "One word says it all. Asian."
The fine was imposed due to a new agreement between AirBnB and California's Department of Fair Employment and Housing (DFEH). It lets the DFEH examine hosts that have had discrimination complaints.