Trump's energy secretary pick Rick Perry flips position on climate change denial
Perry reverses stance on climate change but doesn't want to raise the cost of energy.
Former Texas Governor Rick Perry said he regrets ever suggesting the US Department of Energy should be abolished and reversed his position on the existence of climate change.
"My past statements about abolishing the dept of energy do not reflect my current thinking," Perry said during his Senate confirmation hearing to head up the department in the Trump administration. "After being briefed on so many of the vital functions of the Department of Energy," he said, "I regret recommending its elimination."
Perry also told the Senate Energy Committee that he believes "the climate is changing" but said that "some of it is naturally occurring and that some of it is man-made."
Perry said he wants to lead the agency " in a thoughtful manner" that "doesn't affect the cost of energy."
During his 2012 bid for the Republican nomination, Perry's campaign hit the rocks when he couldn't recall whether he wanted to eliminate the Environmental Protection Agency.
A day before his hearing on 18 January, The New York Times reported that Perry thought the energy secretary role would involve acting as an ambassador for the American oil and gas industry.
Perry sat on the board of Energy Transfer Partners, which is fighting First Nation groups and protesters to build the Dakota Access oil pipeline, until he stepped down from that job on 31 December 2016.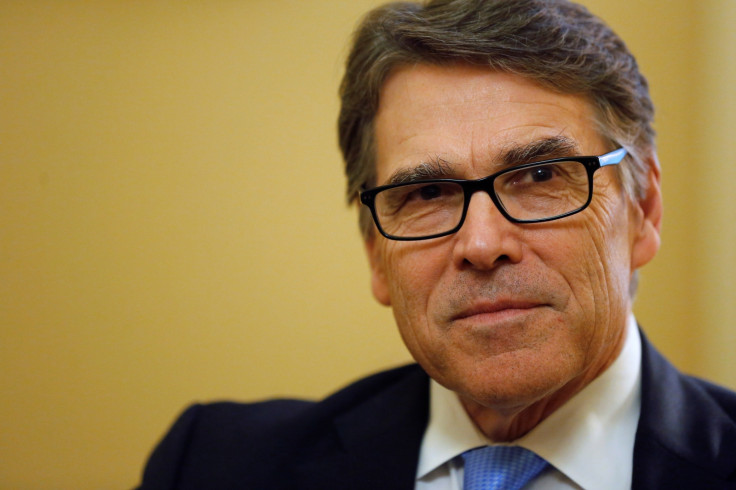 President-elect Donald Trump has said multiple times that he believes climate change is a "hoax" dreamt up by the Chinese to stifle the American economy.
Perry's views on climate change appear to have also undergone a dramatic change since his 2010 book Fed Up! in which he disputed "so-called" climate science, saying "we have been experiencing a cooling trend." As Governor of Texas, Perry would not accept environmental reports which said climate change is caused by humans, and censored a report on sea-level rise in Gavelston Bay.
The Secretary of Energy is traditionally tasked with creating energy policy, helping develop new energy technologies, such as solar and wind power, maintaining the US nuclear arsenal, and maintaining the integrity of the environment.
But Perry emphasised his work as a Texas governor, having increased the use of wind and solar power in the state. Texas "reduced carbon output by 17%" under his leadership, Perry said. "We truly advocated an all-of-the-above" strategy, he said, and pushed a plan to "develop cleaner fossil fuel technologies "but also renewables."
Electrical grid modernisation was also a priority, Perry said, along with creating cybersecurity barriers to protect American infrastrucutre from hacking. He was committed to "do things outside the box that people may not have associated with a Republican."
© Copyright IBTimes 2023. All rights reserved.