It is no longer a secret that late singer David Bowie developed a fine taste for art collecting. The British musician's personal art collection went up for auction at Sotheby's in London earlier in November and sold-out in just one day for a staggering £32.9m ($40.8m).
Among the extensive collection, spanning an estimated 400 contemporary pieces, were rare and early works from the likes of Jean-Michel Basquiat, Pablo Picasso and Frank Auerbach. However, perhaps some of the most treasured items to Bowie, who died in January 2016, were his collaborations with modern artist Damien Hirst.
On display at the London gallery were Hirst and Bowie's stunning spin painting created by the pair in 1995. Comprised of a beautiful splash of colours, Sotheby's described the piece as a "shattering, slashing, violent, pinky, hacking, sphincter painting". Its value was estimated between £250,000 and £350,000 but it more than doubled its worth, by selling for £755,000 at auction.
As a passionate fan of collecting, working with one of contemporary art's most respected painters was a real coup for Bowie. Delving into their friendship, Bryn Sales, Sotheby's specialist and deputy director in modern Britain art, told IBTimes UK: "The relationship between Bowie and Damien Hirst is an interesting one because Bowie found Hirst's work really interesting. They became friends and had conversations about art and what it means to be an artist."
Of Hirst's famous style of painting, Sales added: "Hirst started doing these spin paintings in the '90s and he was actually inspired by Blue Peter. Bowie and Hirst were very interested in the artist not having final control of the composition and relinquishing that element to the universe."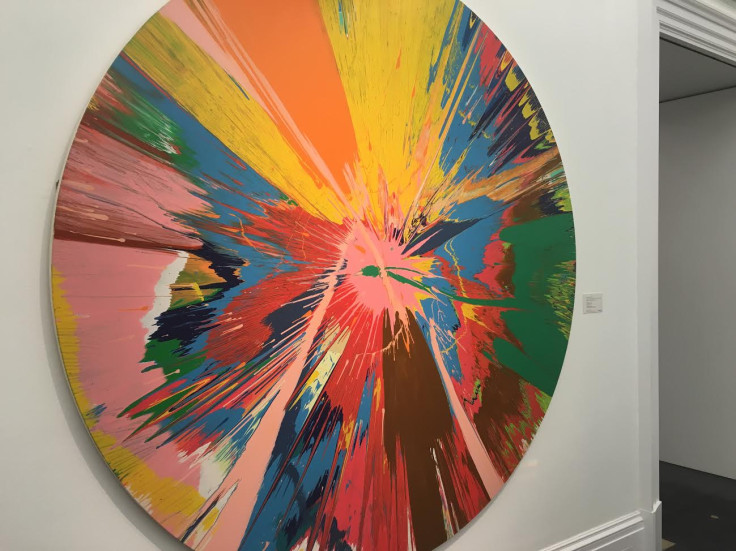 The most expensive item at the auction was Basquiat's Air Power, which Bowie bought for £78,500 and sold for £7.1m, an incredible profit on its previous value of £2.5-£3.5m. Addressing the auction's success, Sotheby's Europe chairman Oliver Barker said in a statement: "David Bowie's personal art collection captured the imagination of the tens of thousands who visited our exhibitions and the thousands who took part in the sales."
Barker added: "Sotheby's is truly honoured to have had the opportunity to share this collection with the world and, in doing so, offer a fresh insight into the creative mind of one of the greatest cultural figures of our time."
Undoubtedly, Bowie's celebrity status contributed to the unprecedented sales of his art collection and his presence is still felt within the music industry almost a year after his death. It has been announced that Bowie's musical peers, friends and family will take part in a series of shows to mark what would have been the Heroes singer's 70th birthday in January 2017.