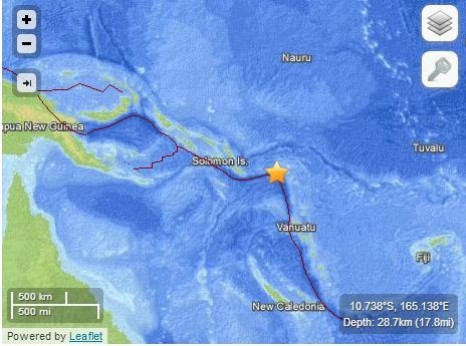 Five people have been confirmed dead after a tsunami triggered by an earthquake measuring 8.0 struck the Solomon Islands.
The tsunami damaged buildings and utilities in several villages. The impact prompted alerts for New Zealand and several other Pacific islands, although these have subsequently been cancelled.
The Pacific Tsunami Warning Centre (PTWC) recorded waves as high as 3 feet at Lata Wharf on the Santa Cruz Islands, which are part of the Solomons.
The earthquake struck at 12:12pm local time, 81km (50 miles) west of Lata, at a depth of 5.8 kilometres. It was followed by at least nine tremors with a magnitude of 6.6, the United States Geological Survey said on its website.
"Sea level readings indicate a tsunami was generated," according to a statement posted on the PTWC's website. "It may have been destructive along coasts near the earthquake epicentre and could also be a threat to more distant coasts."
The tsunami hit three villages, and officials and rescue teams are heading to the affected areas to assess the damage and gauge the exact number of causalities, according to the Australian Broadcasting Corp.
Inhabitants of the surrounding area are now moving to higher ground for safety, Douglas Mapau, a senior political reporter at the Solomon Star in the capital of Honiara, told Bloomberg in a phone interview.
However Atenia Tahu, of the Solomon Islands Broadcasting Corp in Honiara, told Fox News that most people were staying calm.
"People around the coast and in the capital are ringing in and trying to get information from us and the National Disaster Office and are slowly moving up to higher ground," Tahu said. "But panic? No, no, no, people are not panicking."